What I Wish I'd Know Sonner About Living With Chronic Illnesses
In this photo I was about nine years old; it is one of the few photos I have with my grandad and siblings. It was also the summer before I started getting sick – stomach pains, constipation, fatigue and bleeding from my rectum. This letter is to my younger self who desperately tried to just stay afloat, getting me to where I am today.

Dear Stephie,

You won't know it yet, but you will end up living with four chronic conditions which can be easily thought of as invisible illnesses or disabilities. They are ulcerative colitis, hypermobile Ehlers-Danlos syndrome, fibromyalgia and postural tachycardia syndrome (PoTS). It isn't all doom and gloom though, you will meet some amazing people along the way in hospital, on social media and in real life.
The main thing I wish you would learn from the get-go is owning your personal autonomy, you are a smart-ass, walking, talking dictionary so I know you know that means to take charge of your body. Don't let the doctors who think you're trying to skive win. Mam and Dad know that isn't the case as school is your safe place for now at least. When one of the doctors does something you know deep down is wrong, report it. Just because you are 14 doesn't mean people won't take it seriously.
Don't waste all that time in hospital moping – don't get me wrong, you are allowed to have a pity party, but don't stay there. Use the time to read or write; it doesn't have to be school work (you have that down), maybe start a diary because it's actually quite scary how much of your childhood/teens you block out and there are blank periods in your memory.
So many people including those closest to you will forget you have limitations; they will forget that you brush over bronzer to make yourself look healthy. They will forget that one minor injury can and will screw with the rest of your body. That your good days will inevitably turn into three bad days – although most of your days will actually be a blur of pain then pain killers that make your face feel numb.
A smile will hide a multitude of pains but remember in PSHE class when Mrs. Taylor mentions how it's a very British thing to just say you are okay and not actually tell someone how you are feeling because people don't actually want to know? Well IGNORE that. Please don't hold that to your chest so tightly that you let your mental health go unchecked.
Make the effort to do the things you want/need to do like remembering to rest when you go to Rome with Lee and Vix. They know you are ill better than most, but nobody expected the heat to hit you the way it will. It is your first bit of freedom after having your JPouch formed and you should start taking loperamide; not that anyone tells you it would be a good idea. Drink more too because going from being constipated 24/7 to then going to the toilet six times a day dehydrates you so much. Oh, and follow Baloo's advice with drinking hydration salts – she knew what it was like after her bowel resection.
In hindsight there is very little I would actually change in our life as I do believe in the butterfly effect and if things were even slightly different, I might not have the most amazing handsome husband and two adorable children. Yeah, you will actually change your mind and want kids, and someone will actually enjoy how gosh darn annoying you can be!
All in all, even though your day to day life will never be easy and a lot of days you just want to curl up in a ball and cry, remember how strong you are. You work throughout your life – hell, for your first official job you are interviewed from a hospital bed! You will get to travel, and you will experience positive opportunities that only people with invisible illnesses can.
Keep your head held high,
Stephie.
"What advice would you give your younger self about life with a stoma or hidden illness?"
Ready to join SecuriCare?
For ongoing support, product advice & home delivery.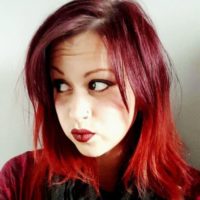 About the author
I'm Stephie - a mum, wife and punk rock ostomate, blessed to be from North Yorkshire. I'll be writing about different campaigns that can help ostomates & general lifestyle posts.


Enter your email address to join our email list
By submitting, you agree to receiving product and service emails from SecuriCare. You can unsubscribe at any time by clicking the link in any of our emails, calling Freephone 0800 585 125 or emailing orders@securicaremedical.co.uk, and you can view our full privacy policy.