Meet The Team: Rebecca, Colorectal Nurse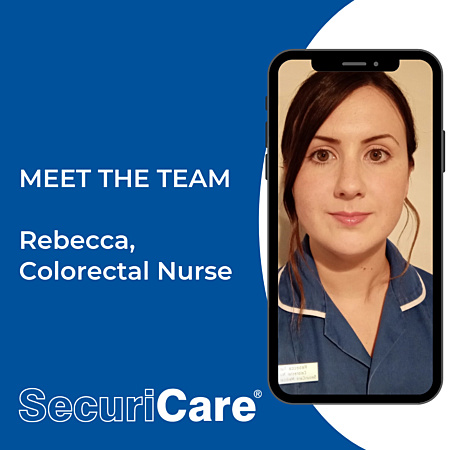 "Being a Colorectal Nurse is an extremely rewarding role. I really enjoy building relationships with patients to help them come to terms with their diagnosis." – Rebecca, Colorectal Nurse
Why did you decide to go into Colorectal Nursing?
I trained as a nurse in Ireland and qualified in 2013. I moved to the UK at the beginning of 2014 to gain a year's experience in the NHS, but I am still here eight years later! I started my career in cardiology in the south of England before moving further north where I started working in the general surgical wards including the Day Procedures Unit. I gained experience in several areas such as breast surgery, orthopaedics, gynaecology, and colorectal surgery - I also recently spent three months redeployed in the Covid-19 respiratory unit.
I have always had an interest in colorectal nursing, particularly in looking after those who had been given a cancer diagnosis and had to undergo resection surgery with, or without, the formation of a stoma. It was a privilege to contribute towards helping these patients go through their treatment journey and when the opportunity to specialise in colorectal nursing came up, I jumped at the chance!
How long have you been a Colorectal Nurse?
I joined SecuriCare as a Colorectal nurse in August 2020 - slap bang in the middle of the Covid-19 pandemic! There have been some challenges in starting a new role during the pandemic as meetings and inductions cannot always take place as they normally would. However, the SecuriCare team have been really supportive and kind in helping me settle into my new role.
Describe a typical working day for you:
My role is very varied and involves supporting patients at every stage of their journey. A Colorectal Nurse must be knowledgeable about different types of surgery and stoma care in addition to oncology treatments (for those with cancer diagnoses). We will be present at the time of diagnosis and act as a key worker, co-ordinating investigations, surgical dates and counselling patients prior to surgery. We build professional relationships and act as a support to the patient, in addition to managing their follow up care throughout a five-year surveillance programme.
The Covid-19 pandemic has caused difficulties in terms of arranging surgery dates and limiting in-person clinics. It has been very interesting to see, and participate in, new alternatives to face-to-face meetings such as using Microsoft Teams or video-link consultations with patients. I really enjoy the diversity of my role; one day you might be in clinic, the next you may be reviewing a patient on the ward or in endoscopy – no two days are the same!
What is the best part about being a Colorectal Nurse?
Being a Colorectal Nurse is an extremely rewarding role. I really enjoy building relationships with patients to help them come to terms with their diagnosis. It gives me a real sense of achievement to feel that I have made a positive impact on a patient's life.
Tell us something interesting about you:
I enjoy travelling when I can, and going back to Ireland to see family. I really love running and my aim is to run a half marathon in the not-too-distant future!
Share this article:
by SecuriCare Team
Ready to join SecuriCare?
For ongoing support, product advice & home delivery.