Meet a SecuriCare Stoma Care Nurse: Kerry Haywood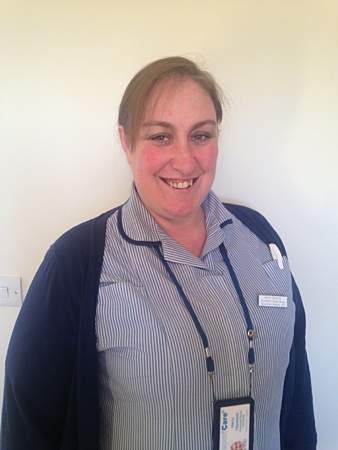 Name: Kerry Haywood
Job Title: Stoma Care Nurse
Community based: Midlands
Have you always wanted to be a nurse?
I started my nursing career late in life, but ever since I was a young child I always wanted to be a nurse and help people who needed it. I used to help my father look after a disabled neighbour from when I was as young as 2. When I left school I had a family, worked in a supermarket part time and brought up my 3 children. I thought it would be too late for me by the time they were grown.
But when I was 35 my husband encouraged me to go back to my studies and follow my dream. Just 3 years later I was a qualified nurse and over the moon to finally be doing my dream job.
How long have you worked for SecuriCare?
I joined SecuriCare in October 2017. During this time I received a very thorough induction programme and training. I have been, and continue to be, well supported by my colleagues.
The Midlands Team are great nurses; they welcomed me on board and made me feel a part of their team.
What made you decide to specialise in stoma care?
All through my nurse training I enjoyed the surgery aspect and my first job was on a busy surgical colorectal ward. It wasn't long before I was deputy sister and managing the ward!
However, I soon realised that the responsibilities of management were taking me further and further away from caring for patients, which is of course the primary reason I became a nurse.
I loved my job and helping patients, not just physically but psychologically and emotionally too, so I decided to specialise in stoma care. This has enabled me to extend my knowledge in aftercare for patients - once they have been discharged from hospital and are recovering at home. Helping patients to deal with problems that can arise once they're home and are back to living life again, was something I hadn't considered whilst working on the wards.
I love my job and find it very rewarding. Making my patients happy, makes me happy.
Describe a typical working day for you…
I visit patients at home after they are discharged from hospital, offering my support, identifying any problems, and helping to resolve issues. I offer patients physical, psychological and emotional support and provide sign posting to other services if needed. I run and organise clinics to make sure patients have continued support in all the areas where I work, and carry out home visits for those that are unable to attend clinics.
I support my colleagues and occasionally come back into the hospital when needed with pre-assessments, stoma siting and stoma training.
Every day is different and I am often faced with challenges, but I love that I am able to spend quality time with the patients when they need me the most.
What do you enjoy doing in your spare time?
Away from work, I enjoy spending time with family and friends. I also enjoy my food and we like to go out dining. I was 32 before we took our first trip abroad but I now love travelling, visiting different countries and experiencing different cultures. However, I'm not so keen on the heat, so usually stay in the shade with a cocktail!
Interested in a stoma nursing career? Discover how Kerry Haywood landed her dream job…
Share this article:
by SecuriCare Team
Ready to join SecuriCare?
For ongoing support, product advice & home delivery.