Introducing Sheffield Steelers Wheelchair Basketball Player, Kevin Hayes
Here is my first ever blog so I hope it goes okay and may it be the first of many.

I'm a 56 year old complete paraplegic T5/6 lesion* who was involved in a road traffic accident at the age of 18.
That was 37 years ago – WOW, how time flies when you're having fun.
I was a backseat passenger in a car with three other guys. We went to overtake a car in front and came back across him too early, this sent us rolling into a field which resulted in throwing all four of us out of the car. I went through the back window and hit a fence post, which broke my back, leaving me paralysed from the chest down.
The car was a mangled wreck when it had finished rolling. Luckily, the other three guys in the car got away with a few cuts, bruises and nettle stings. I hear you asking how we got thrown out of the car whilst wearing seatbelts …well, we didn't have any on because seatbelts weren't compulsory, way back then.
I don't remember the accident or much of the few weeks following it, as I was rushed to intensive care with complications where I stayed for a couple of weeks. They saved my life.
After that I was sent to Lodge Moor Hospital Spinal Unit where I was rehabilitated and had to learn how to spend the rest of my life in a wheelchair.
After eight months there, I went home and my life became different to what it was, I was in a wheelchair permanently - I was incontinent, could things get any worse? But I started going to the pub, watching sports, going fishing, doing things again that any 19 year old would do. After ten years of doing this kind of stuff, I also got into wheelchair basketball (something I actually first discovered whilst in hospital) and I have never looked back.
I started to play for the Sheffield Steelers wheelchair basketball team at a low level and then moved up through the teams over the years. I was lucky enough to represent Great Britain for 25 years, going to three Paralympics, four world championships and six European championships.
I'm still playing now at a lower level but doing more coaching and helping to run the club. It's very difficult finding funds to keep doing the things we want to do as a club, like getting more people involved in the sport to make their lives better and hopefully get people to have a career in sport and represent their country and be as lucky as I was.
Wheelchair basketball and the Sheffield Steelers have given me a life and goals that I'm proud of.
We are so proud as a club at Steelers to be doing what we do and wouldn't be able to do it without funding from businesses, which is why we are so grateful to CliniMed and SecuriCare for sponsoring us this season, and hopefully for seasons to come.
*Levels and classifications are used when referring to spinal cord injuries, to describe where the injury is located and how likely it is to effect strength, sensation and bodily sensations. You can learn more about levels of spinal cord injury here.
"We are so grateful to CliniMed and SecuriCare for sponsoring Sheffield Steelers this season, and hopefully for seasons to come"
Ready to join SecuriCare?
For ongoing support, product advice & home delivery.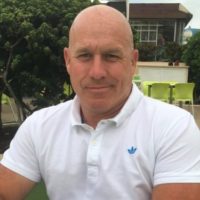 About the author
After a road traffic accident at the age of 18 I became a paraplegic paralysed from the chest down. I've been playing wheelchair basketball for 26 years which has moved into coaching, and given me the opportunity to travel the world and represent Great Britain at three Paralympics.


Enter your email address to join our email list
By submitting, you agree to receiving product and service emails from SecuriCare. You can unsubscribe at any time by clicking the link in any of our emails, calling Freephone 0800 585 125 or emailing orders@securicaremedical.co.uk, and you can view our full privacy policy.