Changing The Narrative Around Stomas
For a long time, stomas have felt like a taboo subject that people don't understand.
However, throughout 2020 we've seen mainstream brands like In The Style, Missguided and Gymshark working with people who have stomas, and the BBC broadcast a fantastic film about the realities of living with IBD and what it means to have a stoma.
One woman at the forefront of this change is Beck from @baglifeofbeck. It's been nearly ten years since Beck had her ostomy surgery and this year, she's become a body positive advocate, sharing her bag, her scars and her spots with the world. Through her instagram account, she shares her self-love struggles and how she's overcome them, and the realities of living with a stoma.
Along with working with brands including In The Style, Figleaves and Lounge Apparel, in September Beck was interviewed by Zoella (the YouTube sensation).
Another brilliant advocate for living with a stoma is my fellow SecuriCare blogger, Billie Anderson.
Billie is open about the highs and lows of bag life and shows us that you can still live a full life with a stoma. An advocate for body acceptance and mental health, Billie has shared her full ostomy journey, and been featured in magazines Amber Mag and Glamour.
Billie says, "Before IBD I was a very private person, but that's a distant memory now. I've been sharing my poo troubles on the internet for just over three years, and it has been a huge part of my acceptance process. Before I found the online community, I felt very alone but since opening up and sharing my story, not only has it helped me but (I hope) others as well. Talking about it made me face the music and has helped me come to terms with my condition, surgery and life with a stoma. Being open isn't for everyone and that's okay, you don't have to share your poo stories if you don't want to, but for me, it's opened up a lifeline of support - one I couldn't live without."
Invisible Illness Warrior, Ant Andrews, was one of the stories featured on the BBC film, Living with IBD. We saw him going through his operation, and it's definitely a moving film. He was raw and honest, and said he shared his journey to getting his stoma because he wanted to show that the journey is tough. He shared this on his instagram page: "I'll be honest, I wasn't expecting it to be so frustrating and difficult at the start but with the right mindset I got through it, and you will too…I have my life back and I'll forever be grateful to all the doctors and nurses who saved me".
Recent graduate, Amber Davies, has been another voice changing the narrative, along with Mesha Moinirad known online by his 40,000 followers as @mrcolitiscrohns. Sarah Smith is SecuriCare's newest blogger and she too has been raising a huge amount of awareness in the media.
There's still a lot of work that needs to be done to break the stigma around stomas, however it's safe to say we're at a real turning point.
These amazing people are just a handful of those making positive change. With more ostomates modelling for mainstream brands, and our stories being told in mainstream media, the world is starting to hear the people behind the bags.
"We're at a turning point for IBD and stoma awareness." - @katieemay1
Ready to join SecuriCare?
For ongoing support, product advice & home delivery.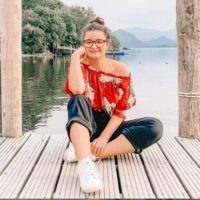 About the author
Katie May is a health and wellness advocate living with a stoma, IBD and arthritis. You can follow her on Instagram for regular updates related to both her health and travels.


Enter your email address to join our email list
By submitting, you agree to receiving product and service emails from SecuriCare. You can unsubscribe at any time by clicking the link in any of our emails, calling Freephone 0800 585 125 or emailing orders@securicaremedical.co.uk, and you can view our full privacy policy.