An Interview With The Founder Of The Stoma Heroes Support Group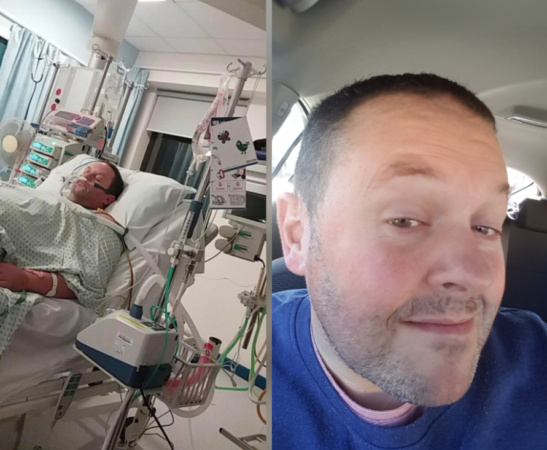 At approximately 21:30 on Tuesday 23 May 2017 my life was about to change for ever. I arrived on the hospital ward, was given a bed and a lovely gown to put on and couple of fellas walked in and introduced themselves to me. One was asking loads of questions and the other started drawing on me! Half an hour later I was in a room being prepped for surgery.
Everything was happening so fast I didn't have time to think about what was going on or why. My stoma, Barry, was about to be created.
After a couple of weeks in hospital I was on the fine line of giving up. All I wanted was to go home but I knew it wasn't happening anytime soon. I was still attached to pipes feeding antibiotics into me every six hours, and draining other fluids from various parts of my body. I had forgotten what my legs were meant for, apart from wearing the tightest socks ever worn by a man or woman!
All throughout my hospital stay I was fighting my emotions like never before.
Two weeks in, still laid in the hospital bed, I desperately needed to shower. I'd been sweating on and off and also needed a shave but I knew this wasn't an option so I had to make do with a bed bath. I was only allowed jelly and ice cream, and I asked the same question every meal time, "Can I eat…?" The same answer followed each time, "not yet". My family came in everyday but I started to get this idea in my head that they were finding daily hospital visits boring, I did suggest that they came in every other day, but they didn't, which was a good thing!
With the help of a nurse, the physios, and a moveable bed, I found a way to get some leverage and I was able to stand up and take two steps to the chair. It was hard but had to be done and helped to challenge the "I can't do it nonsense" I had going on in my head. It was one of the hardest things I've ever had to do. I used all the energy I had in my body to accomplish it but it was done. I felt so chuffed with myself I wanted to do more.
Small steps lead to big strides. I was learning so much about myself emotionally and physically.
I learnt how to deal with things I would previously have stressed about because I could now put them in to perspective. I set myself a new challenge - to leave hospital and go home as soon as possible. I was also trying to find out about stoma-life after surgery, the information I was given was okay but it wasn't enough.
This is where my idea of Stoma Heroes was born (then subsequently put on hold until I recovered)!
Stoma Heroes is an ostomy support group. Our goal is to raise awareness and connect ostomates with each other. I want to remove the stigma surrounding stomas and help people regain their confidence and self-esteem. Stoma Heroes aims to bring more positivity to the lives of ostomates. We encourage peer support and attending group meetings as we believe this sort of activity is an important part of the recovery. Stoma Heroes exists to make a difference and we have many ideas to achieve… small steps will lead to big strides.
Stoma Heroes is just getting started with roots in Somerset but plans to spread further afield will hopefully be realised with time. We're also online.
With a passionate and enthusiastic approach, we can start to tackle and reduce the stigma of having an ostomy.
We've started working with local health connection teams, have recently done a local radio chat and are hoping to continue to work the media outlets to drive our passion and awareness.
Monthly meetings currently take place at:
Crispin Community Centre Leigh Road BA16 0HA
Get in touch for further details of our next meeting.
"Stoma Heroes aims to bring more positivity to the lives of ostomates." - @ HeroesStoma
Share this article:
by SecuriCare Team
Ready to join SecuriCare?
For ongoing support, product advice & home delivery.