The Benefits Of Having A Pet When You Have A Chronic Illness
We all know the unconditional love of a pet can be brilliant for your mental health. However, pets can be beneficial for your physical health too.
Pet therapy is described as an alternative therapeutic approach and it's used to help patients with physical and mental health issues by taking advantage of the natural healing ability of animals. So, whether it's the purr of your feline friend or the daily walk with a wag-tailed pal, there are so many benefits to having a pet. In fact, 74% of surveyed pet owners claimed to have experienced improved mental health from owning a pet (https://petpedia.co/pet-therap...)
5 benefits to having a pet
Being with your pet releases endorphins (oxytocin) that have a calming effect.
This can help reduce anxiety and stress, and the associated physical symptoms.
Improved motor skills, joint movement and assisted or independent movement.
Having a dog usually means regular walks, even if they're only gentle ones. Over time, you will build up your muscles and movement.
Improved social skills and a sense of community.
Whether you're chatting to staff in the pet shop, or fellow dog owners at the park, having a pet in your life opens new avenues of conversation. There are online groups for pet enthusiasts too, whether it's cats, dogs, birds or fish that you're into, there's an online community for almost everything these days! Meaning lots of opportunity to chat with people about your pet and experiences as a responsible owner.
Motivation.
Whether it's the motivation to get out of bed in the morning to feed your pet, or the motivation to leave the house to walk your dog, our pets rely on us to care for them and that provides us with a motivation to get up and move around, which isn't always easy when struggling with chronic illness or something like depression.
Making you happier, lessening depression, and improving your outlook on life.
You can't help but smile when you look into your pet's eyes - even when they've done something naughty! Having a companion by your side can help fight feelings of loneliness, they rely on us and love us unconditionally.
Research has shown that a lot of people can benefit from having a pet, especially cancer patients, heart disease patients, dementia patients, patients with chronic pain, patients with behavioral and emotional illnesses and individuals trying to overcome opioid addiction. (https://petpedia.co/pet-therap...)
I read somewhere that up to 26% of ostomates will experience some negative psychological impact as a result of their health. I wouldn't be surprised if it's higher than that though!
Living with health conditions such as ulcerative colitis can make you feel lonely and isolated. This is something I definitely struggled with, but one thing which brought me happiness (even on really rough days) was a walk with my mum and the family dog, Arthur.
A dog brings much needed routine to a day, a reason to leave the house and get some fresh air, and of course they are excellent companions.
"I struggled with the isolation of IBD, but my dog, Arthur, brought me happiness." - @katieemay1
Ready to join SecuriCare?
For ongoing support, product advice & home delivery.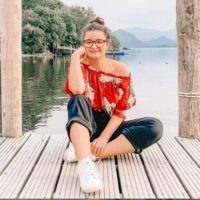 About the author
Katie May is a health and wellness advocate living with a stoma, IBD and arthritis. You can follow her on Instagram for regular updates related to both her health and travels.


Enter your email address to join our email list
By submitting, you agree to receiving product and service emails from SecuriCare. You can unsubscribe at any time by clicking the link in any of our emails, calling Freephone 0800 585 125 or emailing orders@securicaremedical.co.uk, and you can view our full privacy policy.