Explaining Your Health Condition to Your Child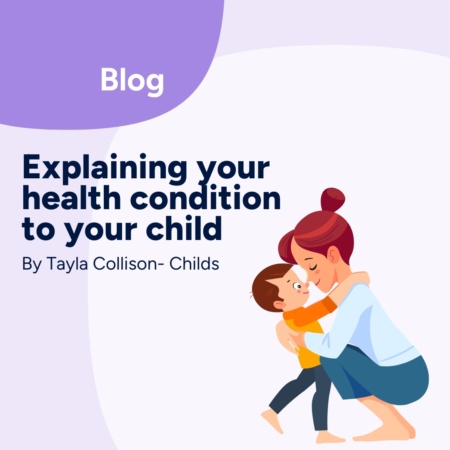 "Communication is the key to any strong relationship and that includes our little ones!"
This month is Urology Awareness Month.
It's an amazing opportunity to raise awareness and speak about bladder health openly. For many people it can be hard to speak about urological conditions for fear of embarrassment, but there's nothing to be embarrassed about.
The more we share, the more others can understand and potentially help.
Sharing is so important, especially with close friends and family.
As a mum, I know first-hand how difficult it can be trying to explain a health condition to a child.
My son, Oscar, and I, have a very close relationship and we're able to open up to each-other.
I'm a single parent, which means its just Oscar and I in the house and I sometimes have to rely on him.
I was diagnosed with interstitial cystitis and Fowlers syndrome when Oscar was 7, so he was fairly young. Our lives changed dramatically in a short space of time, and I knew I needed to explain my health condition to him without scaring or worrying him.
There was a very delicate line between being open and honest and causing a child to worry excessively.
But it's important to remember that you know your child best and it's your choice how open you want to be with them.
Personally, I choose to be completely open with Oscar and have been since the beginning of my health conditions. I have always made sure that Oscar can be as inquisitive as he likes, he can ask me any questions, we can talk about any worries he might have or sometimes he might just want to learn more about mum's health and how he can help.
For me, it's so important that he knows I'm there to talk honestly and openly, as that is what helps him to feel less anxious about it all.
As I'm a single parent, Oscar is classed as a young carer, and he does lots to help around the house.
It's paramount that he understands my health and how my body works, in case, for whatever reason, he needs to call the emergency services.
Oscar also helps me day-to-day with catheter care. He knows what each individual catheter supply is and what it's for which he finds fascinating and I'm so proud of him for taking everything in his stride.
Even if you have another adult in the home that helps you, I always encourage people to talk to their children about their health openly. A simple conversation or answering a few questions can really put a child's mind at ease. It can also lead to more open conversations about finding alternative activities for days where you're not feeling 100%, meaning that you can still enjoy family time, in the way of movie nights or doing puzzles in bed.
If I were to offer any advice about how to go about speaking to children about your health, it would be to remember that they are more resilient than you think.
Communication is the key to any strong relationship and that includes our little ones! I have so much appreciation for Oscar and that he's willing to learn as much as he can.
If you're unsure how to start the conversation, I would suggest asking your child if they have any questions. This way you're able to gauge what they already know and how much more you would like them to know.
Parenting is a crazy rollercoaster and remember, there's no 'perfect' parent. We're all just out here trying to do our best! You've got this!
Tayla x
Share this article:
by Tayla Collison- Childs
Ready to join SecuriCare?
For ongoing support, product advice & home delivery.