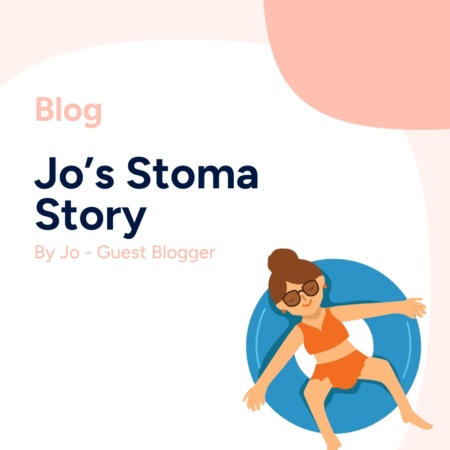 Over the years, I've been pretty lucky, health-wise. I reached the age of 55, without going through any major health issues or surgery.
But that all changed a few years ago when I was diagnosed with Diverticulitis, which had been the cause of some extremely painful abscesses.
After numerous hospital admissions, strong antibiotics and struggling with immense pain, I was told that surgery to remove part of my bowel was the next option.
My surgery was scheduled for April 2022. The varied outcomes of the surgery had been fully explained to me, but I was focussed on the best one- A simple keyhole surgery to cut out the bad part of my colon, reattach, stitch me up and off I would pop home to recover. But that's not quite how it ended up...
When I woke up from surgery, my surgeon explained that everything hadn't quite gone as we had hoped. There was so much scar tissue in my bowel, that I had to be given a colostomy, to give my bowel time to heal.
I'd been so focussed on getting my head around having keyhole surgery, I had forgotten that there may have been other outcomes to the surgery. I guess I was in denial about things potentially "going wrong".
I now had to spend some time getting to know this red, wine gum looking thing sticking out of my belly and try to embrace it as best I could, knowing that it was there to help my body recover.
I thought the only logical first step to accepting my stoma, was to give it a name. So now, I had a new best friend, Bertha. She was a generally well-behaved gal, apart from being extra bubbly when I was sat in a pub garden on a hot day with my friend Dawn. Turns out Bertha wasn't a big fan of a refreshing cold cider and she decided to blow out gas like a major protest. Dawn put me at ease and made me laugh when she said she was pleased that Bertha was able to join us.
My First Holiday with a Stoma
Roll on to June 2023, Bertha is still with me, and my mum decided to treat us to a week in Ibiza as part of her 80th birthday celebration.
With being unwell, it had been a tough couple of years for me and I had been feeling as though my spark needed reigniting, so being able to celebrate my mum, with our family and friends was exactly what I needed.
I waded through the feeling of anxiety as we got through the airport and onto the plane, the thoughts of an exploding stoma pouch constantly crossing my mind. But a few hours later, we landed on my favourite island, stress free.
We got to the hotel and admired the huge pool before running to get our swimming kit on. I threw on my high waisted bikini bottoms, to give me a feeling of security, before dashing down to the pool.
As I was getting in and out of the pool, I had to keep reminding myself that I didn't need to place my hand in front of my stoma area.
It wasn't long before I was back to being like duck in water. Swimming with confidence, doing handstands underwater (top score being 15 seconds), and generally lapping it up, embracing my inner child and reigniting the spark that had been missing for so long.
Our days were filled with lazing on the sun loungers with mum reading her novels while I floated, swam and sat at the side of the pool with my legs in the water, just revelling in the joy of being away with my family.
The last day soon arrived, and we decided to spend a little longer around the pool. As the evening drew closer, guests started to disappear until it was just us, the extremely bronzed die-hards and a few swimmers bobbing about in the shallow end.
I'd not long changed my pouch, so I decided to jump up from my lounger and inform my mum that I was going to try a dive. This is something I've always done on each of my holidays as a little challenge and I wanted to continue, even with a stoma!
The deep end was empty and after marking the spot visually as to where my dive was heading, off I went! Effortlessly reaching the water, I was left with a triumphant feeling of 'YES! I DID IT!'. The adrenaline pumping, I swam underwater to the pool steps when my inner child voice said, 'one more'.
I walked back to my dive spot and leapt off... only this time, I felt a pulling sensation as I hit the water. Before I even resurfaced, I put my hand on my stomach and felt only Bertha... no pouch. I wasn't sure whether to burst out laughing or be utterly mortified at the thought of the many holiday makers watching this scene unfold from their balconies above me.
Trying to stay calm, I looked around for my pouch, but it was nowhere to be seen. I suddenly noticed some other swimmers heading towards me and the fight or flight response, suddenly set in.
I chose flight and started swimming towards the steps, having visions of the pool having to be drained and gossip going around the hotel about a lost stoma bag. Just as I reached the steps, I had one last look and saw my bag floating right next to me! I grabbed it and stuffed it into my bikini bottoms, then legged it to my sun lounger. I reached for my towel and ran dripping wet through the large hotel reception and up to my room to change my pouch. I slammed the door to my room and exploded in hysterical laughter! I rambled on out loud asking how that could have just happened as I proceeded to put a new pouch back on.
After pulling myself together, I went back out to the sun loungers, greeted with a puzzled look from my mum and her questioning why I had disappeared in such a rush.
I explained what had happened and in typical mum fashion, I was told 'at your age you shouldn't be diving, that's what kids do! But you're good at it, so maybe just wear a one-piece swimsuit next time!'
Back in the UK and in July 2023, I had surgery for a Hartman's reversal. My surgeon informed me that the surgery had taken longer than expected and after being reattached, I now needed time for another part of my bowels to heal and therefore, I now have a temporary ileostomy.
Bertha may be no more, but my new friend Lili (Lili-ostomy) is here to keep me company as I recover.
The next few months will focus on healing and a positive recovery for me to then have one final surgery to reverse Lili. Fingers Crossed!
Thank you for letting me share my wild story! And for anyone who needs to hear it:
As we get older, life changes and we face new challenges, but that doesn't mean you have to stop... so go on... DIVE IN!
Share this article:
by SecuriCare Team
Ready to join SecuriCare?
For ongoing support, product advice & home delivery.