Waking Up To An Emergency Ileostomy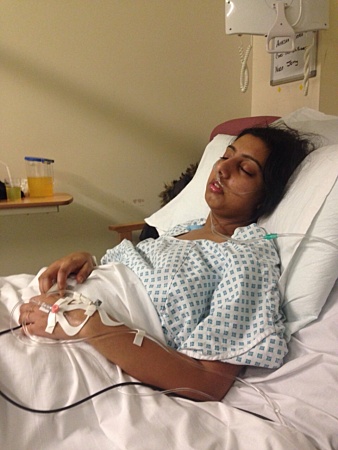 It was the morning of New Year's Eve 2014. I had a gastro appointment with my consultant after not long finding out I had Ulcerative Colitis.
I thought it would be like any other appointment where I would sit in front of the doctor, tell them all my symptoms, and for them to prescribe me more tablets to add to the 20 plus tablets I was already having and send me home.
However this day went a bit different. The consultant examined my stomach and was shocked to find my skin was severely inflamed and very hot to touch. Before I knew it I was surrounded by a group of doctors and was being rushed into theatre.
I was told that my colon was severely inflamed and could burst inside me at any point, which could cost me my life.
I wasn't sure if I was going to make it. How can my life flash before me at the age of 18 just like that? I felt emotionless. I wasn't sure how I was meant to be feeling. I remember looking at my dad just before the theatre doors closed wondering if I would ever see him again.
Fast forward six hours later I woke up after the operation to what felt like a million things connected to me; a drip, a drain, oxygen tubing, a catheter bag and so on.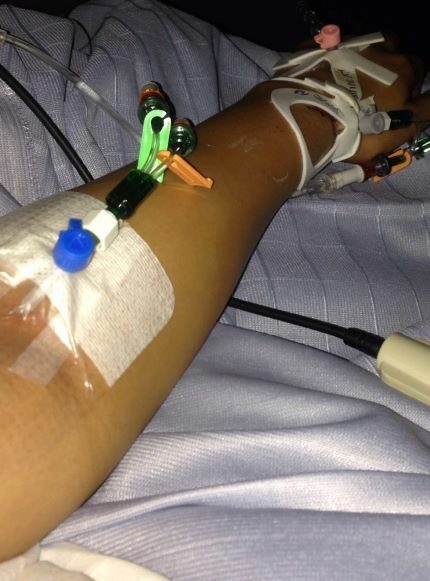 I was in excruciating pain in my stomach so I lifted up my hospital gown to find thick staples all the way down my stomach, and on the right hand side there was a clear bag attached to me full of blood. I immediately put my gown back down and closed my eyes hoping this was all just a horrible nightmare.
A nurse came round and asked to have a look at my stomach and check my bag. I remember asking her why I had this bag and when it could come off.
She held my hand and told me that the ileostomy bag was here to stay and it was my new way of going to the toilet.
I felt numb. I had so many questions about the bag, but I wasn't quite ready to know the answers. I burst into tears. I soon realised this wasn't a nightmare. I was living it and it was real. I was in such a dark place I was struggling to understand what had happened to my body and what I'd gone through.
I looked around the ward I was on, everyone was a lot older than me and there were no youngsters to be seen. This in itself triggered a whole load of questions. Why did I have this bag? An ileostomy bag at the age of 18? Am I the only young person to have one? How am I going to complete my A-levels and go to university with it?
I'd wait all day for visiting time to see my family and my friends. I'd put on a really brave face to show them I was absolutely fine, and then break down as soon as they left.
The thought of looking at my bag again, and having it emptied and changed with assistance almost made me feel sick. It felt almost impossible to accept that this ileostomy bag was a part of me now. I had lost hope, I didn't think I would ever be able to lead the normal life of an 18-year-old girl ever again.
After being discharged from the hospital, the journey of recovering both mentally and physically seemed to go on forever. The ileostomy bag became part of my everyday life and whether I liked it or not there was nothing I could do about it.
I slowly began to accept my bag, and started seeing it in a different light as soon as I was able to lead a normal life again.
I am still alive. I owe that to my ileostomy bag, and for that I will be forever grateful!
"I lifted up my hospital gown to find thick staples all the way down my stomach, and on the right hand side there was a clear bag attached to me." - @LeeshVerma
Are you interested in reading about stoma surgery? Check out more blogs on this subject under the surgery category of our blog, including another blog about emergency stoma surgery from blogger Jay Hyrons.
Share this article:
by Aleesha Verma
Ready to join SecuriCare?
For ongoing support, product advice & home delivery.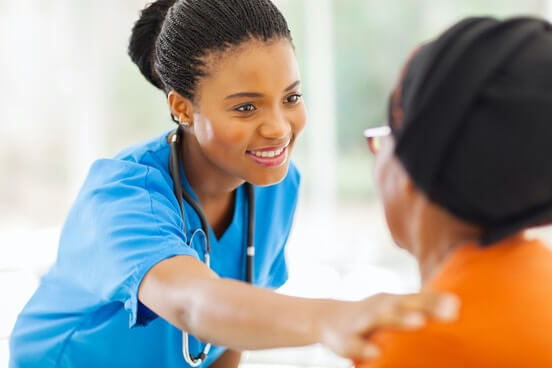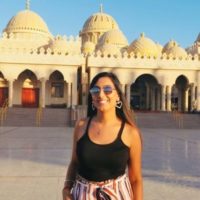 About the author
My name's Aleesha Verma - also known as the Gutless Warrior! I was diagnosed with Inflammatory Bowel Disease at the age of 18 and now have a permanent ileostomy bag - not a Prada bag, unfortunately. You can also follow me @gutlesswarrior on Twitter, Facebook and Instagram.