The Ostomy Influencers Spreading Positivity During COVID-19
Looking for positivity during your day and appreciating the smaller things in life is something that keeps a lot of us going, especially during times of intense stress or worry like the coronavirus pandemic.
This is something I learnt to do during my time in and out of hospital with inflammatory bowel disease (IBD). It might be something you've learnt to do on your own health journey already, but if not, I definitely recommend it!
Maybe it's appreciating the sunny weather, being safe at home, your pet or that lovely cup of coffee you had whilst on a video call to your friend.
Social media is a great way of connecting with friends, family and new people all across the globe. Whether it's virtual hang outs with your loved ones or connecting with fellow ostomates online, there's opportunities everywhere, and bloggers, influencers and business owners living with stomas and/or IBD have been using their experiences not only to help raise awareness, but to also spread a bit of positivity for us all to enjoy.
Here's a round-up of my favourite stoma-positive posts from the last few weeks…
Aura Clothing
Aura Clothing is run by Angeline Truman who you might already be aware of, as Angelina was recently on the cover of SecuriCare's Hand in Hand magazine!
Over on the Aura Instagram, she ran a seven-day ostomy challenge to help people feel proud about their stomas. It was amazing to see so many people engaging and sharing their positive stories. She also took part in the Don't Rush ostomy challenge which saw lots of ostomates getting together for a fun awareness video.
EmJayUC
Em is an ostomate and designer who has been creating positive stoma and IBD art to help raise awareness and say thanks to the amazing healthcare workers across the globe. Her posts are bright, colourful, positive and really relatable; you're bound to love them!
Bryony Hopkins
Whilst Bryony doesn't currently have a stoma, she has had one in the past due to Crohn's disease, and is a huge IBD/general gut health advocate.
During the pandemic, she's been sharing #onelovelything. I love following this, it really does brighten your day and make you look for your own one lovely thing. It really does show the importance of appreciating the smaller things in life.
Amber Davies
I've been a follower of Amber's for a long time now and she's constantly providing support, raising awareness and spreading positivity - even during lockdown.
Providing real life accounts of living with a stoma in a funny and honest way, you're going to come away knowing you're not alone!
Pouch By Pouch
Featuring a lot of yoga, Renee at Pouch by Pouch is showing that having a stoma doesn't have to stop you!
Based in Sydney, Australia not only will her pictures give you real #Wanderlust vibes, but you get a real sense of community. Renee has actually set up a local ostomy support group in Sydney and her captions on her account are truly thought provoking and give you a lot of hope and inspiration.
During these strange times, finding ways to connect is more important than ever. We've probably all experienced some sort of isolation due to our health, but now, we're all in this together.
Maybe you'll start your own hashtag challenge to connect with other ostomates, start a new blog or reach out to other ostomates. Now is the time we can come together in new ways to help support each other, raise awareness and spread some positivity.
"Here's a round-up of my favourite stoma-positive posts from the last few weeks…" - @katieemay1
Ready to join SecuriCare?
For ongoing support, product advice & home delivery.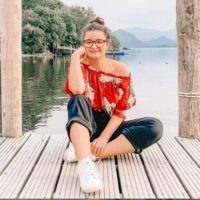 About the author
Katie May is a health and wellness advocate living with a stoma, IBD and arthritis. You can follow her on Instagram for regular updates related to both her health and travels.


Enter your email address to join our email list
By submitting, you agree to receiving product and service emails from SecuriCare. You can unsubscribe at any time by clicking the link in any of our emails, calling Freephone 0800 585 125 or emailing orders@securicaremedical.co.uk, and you can view our full privacy policy.