Sustainability and Ostomy - what can I do?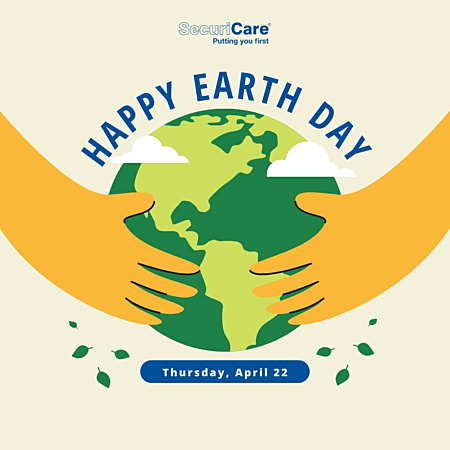 Happy Earth Day!
Each year since 1970, April 22nd has marked Earth Day across the globe. An annual event to demonstrate support for environmental protection, this year is no different.
Or is it?
We now live in the post-Greta age, with a deepened sense of social responsibility towards our fellow inhabitants of this glorious, green Earth.
This years' theme is 'Restore our Earth' according to the official website, and topics will include education and clean-ups amongst other events.
Is it possible to use stoma products and be green?
This got us thinking at SecuriCare, is it possible to be 'green' as an ostomate? What steps can we all take towards our shared responsibility and what are businesses, such as ours also doing? So, the following are a few steps to be more environmentally aware as an ostomate, although we like to think many of these simple tips can be applied to any product, device or service.
1. Use disposable wipes sparingly
We know how indispensable wipes can be to ostomates (it's no secret they're our most requested complimentary item!) but use them sparingly. Not all wipes are biodegradable, and (unless they are Hydosolve wipes!) they certainly shouldn't be flushed down a toilet. They can take a lot of time to degrade in landfill, so only use what you must, when you must. Ideally, clean running water should be used to wipe around the area of your stoma when changing an appliance and soap and water to sanitise your hands. Wipes are there for when this isn't possible, and they're definitely not there to clean the kids face, the dogs butt, or your car windscreen 😉
2. Learn how to correctly dispose of a stoma bag
This can change depending on where you live in the country. Unless you are using a product like the Aura Flushable pouches, the general advice is to empty the appliance in a toilet, rinse, then wrap in a bag or paper towel and dispose of in the bin. It's best to check with your local council as to whether they have any specific guidelines. If you're out and about, this isn't always possible. You can carry compostable bags (like the type used for kerbside caddies) to place waste in until a bin is found - it's one less non-recyclable element.
3. Make sure you've got the right fit
Measure twice, cut once - as the old adage goes. Make sure you know which product works for you to avoid leaks, issues with adhesion and ultimately waste. There are products our there that fit lumps and bumps, hernias, convex and concave. Make sure you speak to your stoma nurse and most importantly try samples to determine the best fit and minimise any wastage caused by leaks. If you're struggling getting in touch with a specialist or you don't who to speak to for advice, don't forget our S.T.A.R.S service is open to everybody.
4. Reduce, reuse, recycle
We know that sometimes leaks can't be avoided, everybody has those days where they just can't get their bag to stick and there's the annoying night-time leaks. If you're staying at home think about switching disposable bed pads for washable ones. If leaks happen during everyday movement or exercise look at other factors, such as supportive clothing or ostomy underwear, ostomy belts or accessories such as flange extenders.
5. A little can go a long way
When you have a stoma some products aren't just 'nice to haves' they're essentials to everyday life which just can't be replaced. But consider looking at alternatives which may use more eco-friendly technologies or ingredients, or a product designed to do a specific job may do it better and more efficiently than those more generic products. Bag on valve technology (as seen in products such as Appeel Advance medical adhesive remover) is a great example of this. Instead of propellant based aerosols and those nasty CFCs we hear so much about, bag on valve uses an internal bag to hold the solution and it's just compressed air that provides the pressure. It means it's also a spray so can be directed exactly where you need it, it can be applied at any angle - even upside down, so you get 100% usage and no waste!
It is tough to be kinder to the Earth when you need to use stoma products but hopefully some of these tips will make us all think a little.
What can companies do?
Another tip is to look at the companies you trust and use, make sure they have ISO14001 accreditation. This means that will have an environmental policy, which they'll be audited against and should be publicly available - usually on their website.
At SecuriCare we've proudly held our ISO14001 accreditation since 2012 and each year we set out our key company objectives which we publish in our magazine, Hand-in-Hand. Here's how we did in 2020:
We reduced our electricity usage by 6.4% per person
We reduced our paper usage by 20.2% versus 2019
We reduced the volume of print and post sent by 38%
It's no lie that COVID made some of these a little easier to achieve, which is why we're doubling down in 2021! We intend to reduce our waste, decrease our CO2 emissions, review and reduce our CO2 tonnage per mile and further reduce the above wins from 2020.
So, much like our bodies, we only have one Earth. Love it, enjoy it and treat it with respect. If you've got any tips on sustainability, or environmental responsibility we'd love to hear them in the comments below.
Share this article:
by SecuriCare Team
Ready to join SecuriCare?
For ongoing support, product advice & home delivery.