Yoga for Everyone – Including People With Stomas
When we think of yoga, we probably imagine buff, bendy bodies in impossible postures, or maybe a skinny sage in a loin cloth meditating whilst standing on one leg! We don't necessarily think of it as something accessible to everyone. In recent years, yoga has become increasingly popular, with more and more people of all ages, shapes, sizes and fitness-levels taking it up, to great positive effect. It seems that yoga is for everyone - but what about people with stomas?
Will your stoma get in the way of doing yoga?
Perhaps you feel worried about going to a group class in case your stoma gets in the way and prevents you from doing postures. Or worse, in case your pouch is knocked and starts to leak or smell. There's enough stress in life without putting yourself in situations where we end up worrying more!
But what if you could do a yoga practice that was tailored to your individual needs? What if there was a yoga practice that allowed for not only your stoma, but all of your individual areas of tension and weakness - whilst also building on your existing strengths?
At the SecuriCare event in Aberdeen, I led a short chair-based yoga session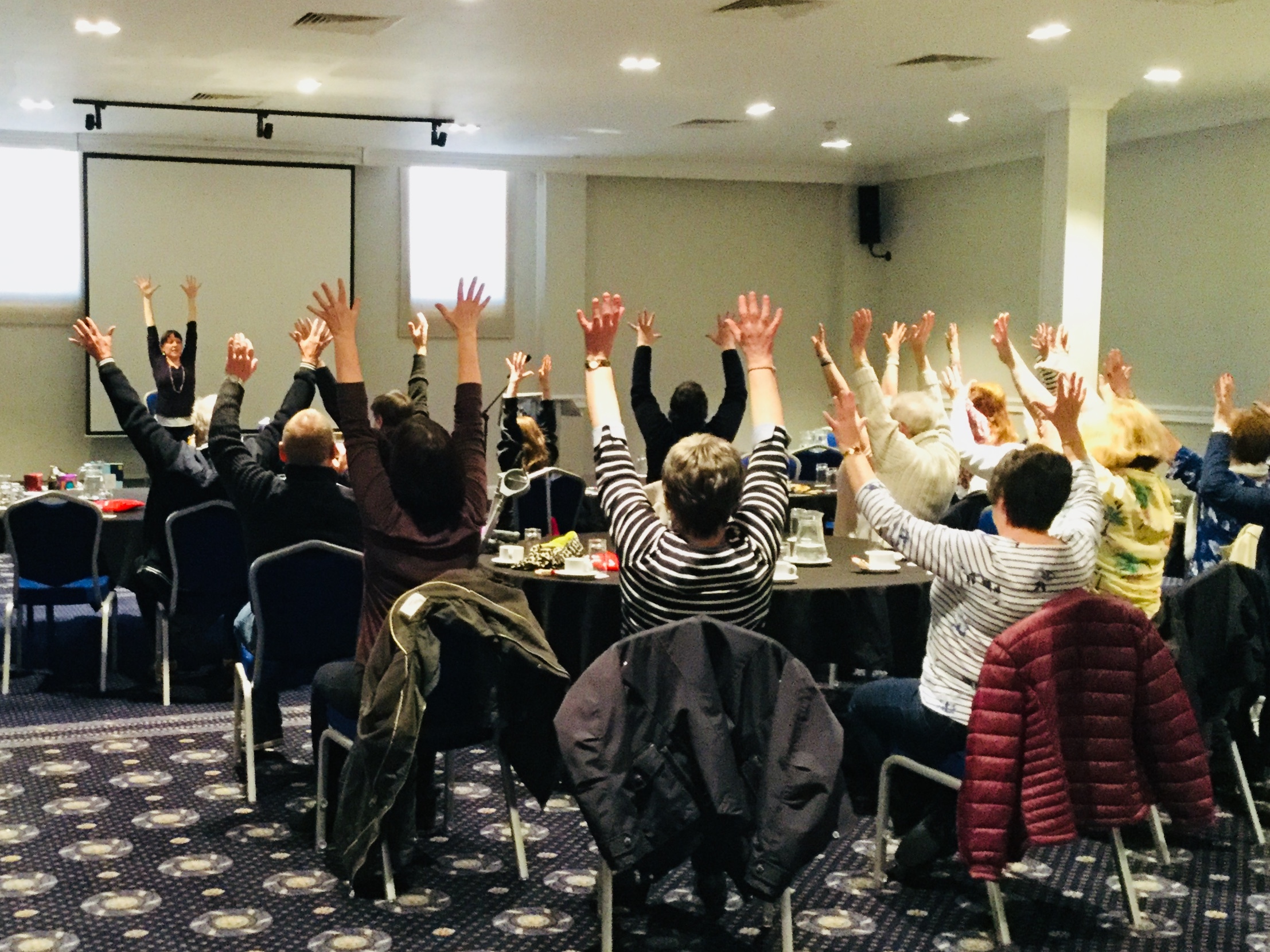 The session gave everyone a taster of how effective a few simple, properly targeted yoga postures can be. We used gentle movements, synchronised with our breath, and within a short space of time we were all feeling extremely calm! We'd released tension from our upper backs and shoulders, and had stretched and gently strengthened our cores and lower backs. And this was only a mini, one-off session!
What can yoga potentially do for you?
Improve your strength
Improve your flexibility
Improve your spatial awareness
Reduce stress and brain fog
Reduce pain and improve your management of it
As a yoga therapist I work with people to tailor yoga practices to their specific needs and abilities. Whether they come to me with an aching lower back, fighting a disease, coping with life-changing surgeries, or with a broken heart - we work together to develop a practice to help ease their symptoms, increase their body's abilities and strengthen their whole system to help bring them to a better place in themselves and in their lives. Each yoga practice is always tailored 100% to the individual needs of each person.
With regular practice you should notice huge differences
In a consultation, we chat about the student's situation and needs, I examine them and then develop a yoga practice specific to them and we go through it together. The student gets a handout with their personalised yoga practice and they work on it at home between sessions. How often we meet varies depending on the individual, but the goal is to update their practice and move them forward till they are completely independent.
With regular practice students notice huge differences within themselves - in their body's capabilities, in how they feel, and in how they're able to interact with the world. They also tend to find others commenting on the positive changes too!
If you're interested in trying out yoga, in a way that is completely tailored to your personal abilities, needs and hopes, feel free to get in touch with me on rebecca@loveyoga.co.uk or call 07916147338.