Here at SecuriCare we take pride in what we do and are always looking at new ways to improve our products and services. So when it was suggested that we wear stoma pouches for World Ostomy Day, in a show of solidarity with the ostomy community, we thought it was a great idea - we even had team members who weren't working join in!
This activity aimed to help us improve our understanding of the needs and experiences of our service users. Although it could only help to gain a little insight into one aspect of living with a stoma, we wanted the experience to be as authentic as possible; SecuriCare stoma care nurse, Vicky Burrows, properly sited all of our pouches and filled them with water and Morform gelling agent, just as she might for a pre-surgery ostomate to help them adjust to wearing a pouch. Our team did find wearing the pouches made them feel closer to our customers and appreciate lots of the topics we frequently talk about here in the office - such as the importance of products that are discreet under clothes, comfortable to wear and don't irritate the skin.
We've compiled a few thoughts from our colleagues who took part across both SecuriCare and our sister company, CliniMed.
Tracy West – Patient Development Specialist
"Being new to SecuriCare I was pleased for the opportunity to gain a small insight into my patients' experience (with their stoma pouch).
I was late for the school drop-off so had to run and was worried about the pouch coming off but it stayed put! As the day wore on, I got more used to it and managed the hoovering/cleaning of my rabbit's hutch which involved twisting and turning yet the pouch felt very secure.
This activity made me think more about the possible challenges and thoughts my patients may have including how clothing would need to feel comfortable and how you'd want to know where the nearby toilets were on a social outing. I also did a lot of explaining to my 5 year-old who had lots of questions!
I'm glad I took part as this gave me a great insight and it was a good opportunity to promote awareness."
Rachel Bowerman – Digital Content Executive
"I took part in our awareness drive for World Ostomy Day and am really glad I did! I wore an Aura colostomy pouch for the day to gain a little experience into how they look and feel, and to better understand how they affect our customers. Wearing the pouch also provided a great opportunity to start conversations - raising awareness and educating family members with no prior stoma knowledge!"
Rebecca Pearce – Careline Team Leader
"I wore the Aura drainable pouch and then opted to fit the CliniMed UltraFrame flange extenders myself, and was surprised at how different it was trying to place these on when looking down at yourself!
At first I was very conscious of bending and sitting, but after a while I almost couldn't feel the pouch there, it was very secure and of no irritation to my skin which is usually very sensitive. It was also very discreet under my clothes and wasn't noisy during any activity.
The fact that I was conscious of how I moved or sat initially made me think about how life changing it really is and how important it is to have a product that fits with your body contours and lifestyle."
Chris Chapman – IT Manager
"I'd not considered the pouch when deciding what to wear so it wasn't until I was handed a 1-piece drainable that I realised a slim-fit shirt might not have been the most sensible choice when it comes to subtlety! However, once I'd attached the bag and tucked it into my shirt and trousers, it was impossible for others to tell I was wearing one.
One thing I quickly noticed is that it made me quite hot, like wearing an extra layer under my shirt.
It wasn't enjoyable wearing the pouch, but it was a good first-hand experience of how important it is that our pouches are comfortable to wear all day long."
Abby Hamilton – Junior Product Marketing Executive
"It was a really insightful exercise and I have learnt more about the different types of pouches available, and that wearing a pouch doesn't necessarily restrict you in your normal daily routine. Hopefully we've managed to raise some awareness of what a lot of people have to deal with on a daily basis and talking about it has been really interesting."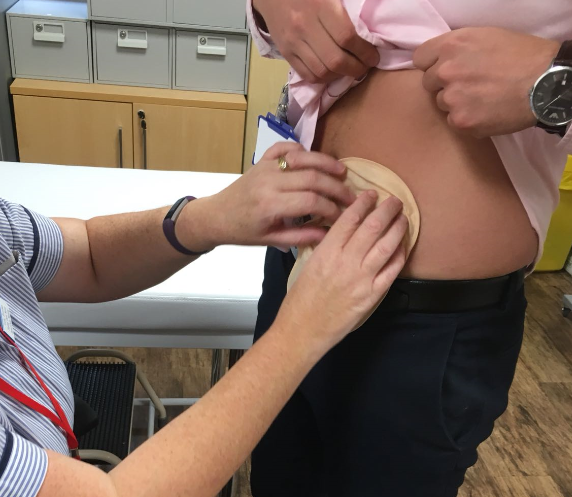 Billy McLintock - Junior Product Manager, Stoma
"I wore the Aura closed pouch filled with water and Morform. At first, I was quite surprised by how much I felt it under my clothes, and that it was a bit uncomfortable, pulling at hairs. Another worry was that I thought it would be uncomfortable when sitting at my desk but it turned out to give me no problems at all. After a few hours I forgot I had the pouch on, it was only when I went to the toilet that I 'found' it again!
It was a great way to raise awareness and was good to see people from all departments taking part, I feel it really educated some of my colleagues who don't often deal with the stoma side of our business."
Amy Fleming – Assistant HR Advisor
"I really enjoyed participating in our World Ostomy Day activity – it's given me an insight into how much our products and services here at CliniMed and SecuriCare help to change lives.
It was great to see so many people across the company taking part."
Laura Brown – HR Administrator
"I had my colostomy bag fitted this morning by one of our Community Stoma Care Nurses, Vicky. She added some gel sachets and water into my bag before fastening it to my skin. I thought the bag would feel uncomfortable but to be honest I didn't really noticed it other than the odd re-arrangement of clothes around the bag after visiting the ladies and the slightly warm feeling of the flange on my stomach.
I enjoyed taking part in the activity - it really did put into context just how much our products and services help to change people's lives. I think it's great to see so many people across the company volunteered to take part in showcasing our commitment to a better understanding of the needs of our customers and service users."
"I'm glad I took part as it gave me a great insight and was a good opportunity to promote awareness!" – Tracy West
Ready to join SecuriCare?
For ongoing support, product advice & home delivery.


Enter your email address to join our email list
Message Sent
Thank you for submitting your enquiry. We will be in contact with you shortly
By submitting, you agree to receiving product and service emails from SecuriCare. You can unsubscribe at any time by clicking the link in any of our emails, calling Freephone 0800 585 125 or emailing orders@securicaremedical.co.uk, and you can view our full privacy policy here.