Rob Fearn And The Stoma Caddy
Hello, I'm Rob Fearn - a 49 year old man living in Nottinghamshire with my wife, Helen. I had an emergency Hartmann's procedure back in 2013 due to diverticulitis leading to a perforated bowel, prior to that I'd spent 15 years suffering with 'Irritable Bowel Syndrome'.
I was tested for Crohn's and Colitis amongst other things, and when they found nothing it was declared that I must have Irritable Bowel Syndrome.
Those 15 years were a nightmare and revolved around where the nearest toilet could be found. I work as a sales representative selling flooring so spend all my working life on the road. I would eat breakfast, and then starve myself for the rest of the day due to the constant fear of needing the loo urgently and getting caught out. I would avoid all situations where I wouldn't be in control. If I was planning to go out for a meal I would load myself up on Imodium, then plot on a map how quickly I could make it home from the restaurant and decide if it was worth the risk. I turned down dozens of invites to concerts, movies, days out etc and spent more and more time trapped at home.
I was later taken into hospital for emergency surgery, and awoke to find I'd been given a stoma.
I guess that a lot of people would have been devastated to wake up from an unplanned operation to find they had a stoma and a bag attached them. Although it was a surprise, I realised immediately that it would change my life for the better. And it did!
The feeling of freedom was unbelievable. I couldn't wait to get out of the hospital to enjoy my new found freedom. The early part of my recovery included walking for miles. Not only was it the safest way to rebuild my strength and improve my fitness but it was such a buzz to just leave the house without having to take medication and plan my route via public toilets.
Within the first 3 months after being discharged from hospital I was able to attend a couple of concerts and was planning holidays and theatre trips. One of the concerts was in the centre of Nottingham and we travelled in on the tram. Again, this is something that I wouldn't have even considered before. Being stuck on a tram full of strangers with no toilet available would have been like hell on earth before my stoma.
My stoma has been very well behaved. I have been lucky enough to have had no leaks at all and I seem to have found the perfect combination of products that suit me down to the ground.
My stoma was officially temporary but due to the massive improvement in my state of mind and my lifestyle I have refused a reversal.
This is the best I have felt in years and cannot think of anything worse than going back to where I was before.
Over the last 5 years I have attended the stoma support group at my local hospital, and I have now joined the committee.
We meet on a monthly basis and I listen to people's difficulties and frustrations. I wondered if I could do anything to help.
One of the concerns that both myself and several other members have discussed is changing your appliance when travelling. It may be fairly easy to cope at home but when travelling it can be extremely difficult where space is limited. With this in mind I have spent the last few months designing a product which I hope will help my fellow ostomates on a daily basis.
My product is called Stoma Caddy – a silicone storage unit for ostomates on the go.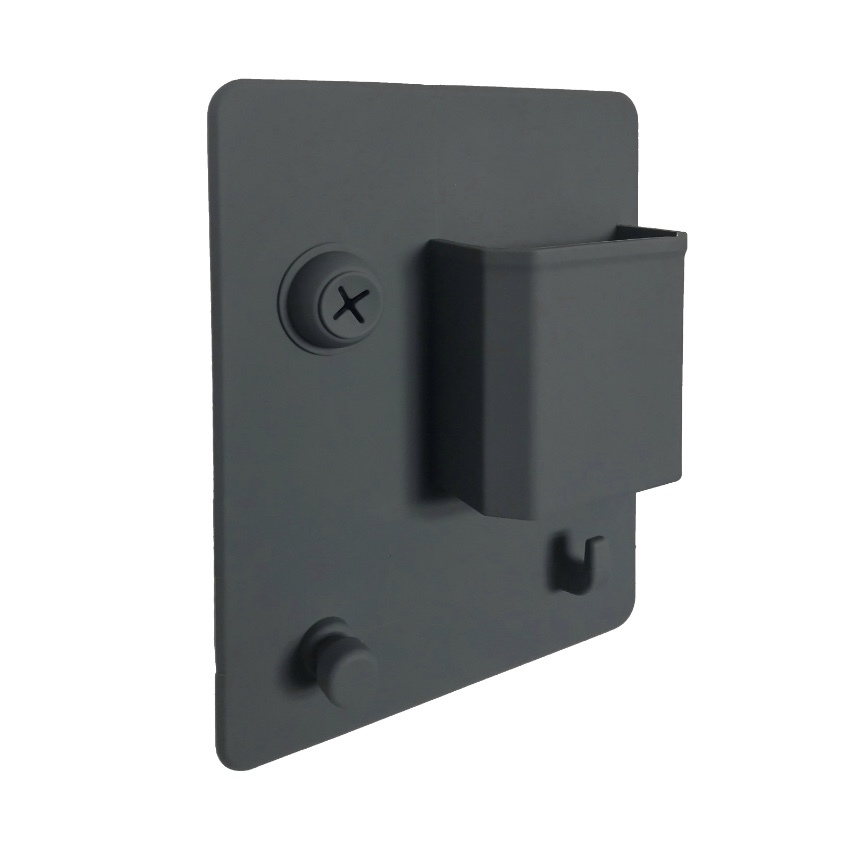 It clings to any smooth surface such as the bathroom mirror, ceramic tiles, or marble, without the need for adhesives or permanent fixings. This makes the unit completely portable so although the Stoma Caddy is extremely useful at home it really comes into its own when travelling. It's perfect to use in hotels, caravans, motor homes, at the gym in the changing rooms… in fact, it's just great for anywhere space and shelving is limited.
Stoma Caddy is made of soft silicone so it's also ultra-light, waterproof, and extremely flexible, so you can take it with you wherever you go. It holds most of the products you need when changing your stoma appliance. Featuring 4 components:
1. A large pocket to hold 2 spray cans (adhesive remover, barrier spray, air freshener etc)
2. A strong hook which holds up to 1kg to hold your waste bag.
3. A post hook to hold your new pouch.
4. A grip to hold a wet or dry wipe
This keeps all your products to hand and within easy reach without having to balance everything on the back of the wash basin.
Obviously these are just suggestions for how to use each component - they can be used for whatever is personal to you!
Stoma Caddy is available in 4 different colours - please take a look at my website stomacaddy.com for more information, or contact me via Facebook. If you'd like to purchase a stoma caddy, be sure to use the discount code SECURICARE for 10% off the full price.
Thanks for reading about my journey; I hope you find the Stoma Caddy useful.
"I have spent the last few months designing a product which I hope will help my fellow ostomates on a daily basis" – Rob Fearn
Ready to join SecuriCare?
For ongoing support, product advice & home delivery.


Enter your email address to join our email list
By submitting, you agree to receiving product and service emails from SecuriCare. You can unsubscribe at any time by clicking the link in any of our emails, calling Freephone 0800 585 125 or emailing orders@securicaremedical.co.uk, and you can view our full privacy policy.