Raising Bladder Cancer Awareness
May is Bladder Cancer Awareness Month, so each year I try to do something to raise the awareness of this lesser known but still deadly disease.
Back in 2018 I decided that I wanted to highlight the fact that women were being diagnosed with bladder cancer much later than men were.
This is because women are more likely to be checked for gynaecological conditions BEFORE bladder cancer. A late diagnosis can be fatal.
The campaign was pretty successful - 20 ladies agreed to help raise the awareness. Now, 20 ladies may not seem much to you but for me, it was amazing that they took part.
I asked them for a photo of themselves along with the age that they were diagnosed and 3 words to describe the moment that they were told that they had bladder cancer.
I am forever grateful to these wonderful women and the daughters of some of the ladies who didn't make it.
This year I wanted the campaign to shout louder and reach more people, so I teamed up with the Crush it for Curtis Foundation as I knew that we both needed/wanted more resources and more coverage. So, both Curtis and I set about working on Faces of Bladder Cancer 2020.
Using my idea from 2018 as the basis, we decided to open it up to everyone both men and women (and anyone else who has experienced bladder cancer). We posted a photo of the person affected by bladder cancer, their age, when they were diagnosed and three words describing how they felt.
These words are extremely powerful, "shocked, numb, scared and frightened" and in the midst of despair comes words like "determined, prayerful and hopeful". We were hoping for 31 people to allow us to use their photographs and I quickly signed up for Canva, which is an app that you use to create social media posts.
After a few hours of swearing, putting my phone down, and swearing some more, I FINALLY got to grips with it and the first graphic was created. I nearly cried with joy! I am such a technophobe and I swear that I still have chemo brain and my brain just sometimes doesn't understand the simplest of things.
The ethos of the campaign was to showcase the diversity of people affected by bladder cancer, to show unity, build connections and to provide a sense of community.
As with most illnesses or disease, there can be misconceptions. And one of the most common misconceptions about bladder cancer is that it only affects older people. Well, we had people in their 20s take part in this campaign and I personally believe we rocked it this year! Remember how I said we had hoped for 31 people to take part? We actually ended up with 90 participants! 90!
We shared the life out of the images on social media and on the Sunday 31 May we shared every single person's post again, in honour of Andrew Winterbottom, who co-founded Fight Bladder Cancer, with his partner, Tracey. Fight Bladder Cancer has been going for over ten years now and offers support, information and an online forum, in which you can share your troubles and fears with others in a similar position as yourself.
Head over to my personal blog site to see all 90 posts plus two more from me and Curtis.
Most people who were diagnosed with bladder cancer that I know, had NO IDEA that it even existed - myself included! This is why spreading awareness, not just in May, but in every other month too, is so vital.
How many more people are going to be clueless when they are diagnosed with the fifth most common cancer in the UK? 18,000 will be diagnosed this year – EIGHTEEN THOUSAND!
Bladder cancer KILLS almost half of the people that are diagnosed. Sobering thought isn't it? This cancer also has the most amount of NHS cash spent on it due to its high recurrence rate. So why? Why do we not have nationwide coverage? Why isn't it taken as seriously as other cancers? Is it because its associated with 'pee' and deemed 'dirty'?
We HAVE to keep raising awareness and sharing what we know about this evil, disgusting disease, if it helps to save one person's life or makes them aware of the symptoms then we have achieved something important.
Let us not rest on our laurels, there is so much more work needed to be done in spreading awareness. Please visit www.nhs.uk/conditions/bladder-cancer/symptoms to familiarise yourself with the symptoms of bladder cancer, and give this blog a share to help raise awareness.
"Bladder cancer kills almost half the people diagnosed. Sobering thought, isn't it?" - @big_british
Ready to join SecuriCare?
For ongoing support, product advice & home delivery.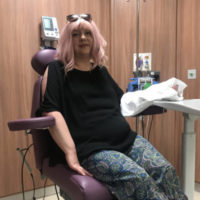 About the author
Hi I'm Anita Brown. Diagnosed with terminal small cell bladder cancer in April 2016. I've had palliative chemo and radiotherapy, and a radical cystectomy and urostomy in August 2017.
I've had problems with my bladder all my life, from incontinence, to kidney and bladder stones, and now cancer. I would like to share some of my experiences - follow me on Twitter.


Enter your email address to join our email list
By submitting, you agree to receiving product and service emails from SecuriCare. You can unsubscribe at any time by clicking the link in any of our emails, calling Freephone 0800 585 125 or emailing orders@securicaremedical.co.uk, and you can view our full privacy policy.