Radical Cystectomy Expectations Versus Reality
If you're reading this, it may mean that you're facing the prospect of having your bladder removed.
This is an incredibly frightening time. It is major surgery. It shouldn't be downplayed. Your life will change, both in the physical and emotional sense. How could it not? This is a huge decision to make. I opted for surgery due to major ulcerations within my bladder that just weren't healing. This was causing me pain. It interfered with my quality of life. My bladder HAD to come out.
I think there are many types of people in this world. Some who don't think things through well enough, and others that go hard on the research. I am the first type. I try not to have expectations and to just go with the flow, I have to admit that I was in so much pain, all I could think about was being pain free.
Meeting your consultants…
I first met Mr. Q to talk about my options for surgery. He asked me some questions and told me the basics of the operation: my sex life might change, it would take up to three months to recover from the operation, there would be some pain, I would be in ICU for two days, then transferred into a ward until I was ready to be discharged. Walking would be encouraged after day one. All I could think of, was not being in pain. With reassurances, I decided to go ahead with the surgery as nothing could be as bad as living in constant pain, could it?
Ask questions – lots of them.
I had no idea what questions to ask at the time and wish I had done a bit of research, if only to be prepared for my recovery and healing. Mr. Q informed me that it usually takes two to three months to recover from this type of surgery. I found it was more like eight. We all heal and recover differently. I am very sensitive to pain and found that I was still taking painkillers at three months whereas another bladder cancer patient I know, had barely any painkillers and was back to work at three months.
I guess what I am trying to say here, is that you know your own body. You know how sensitive you are, or not, as the case maybe. Just go at your own flow and remember the guidelines that these surgeons work towards are with an 'average' patient in mind.
Sex after surgery…
I was also told that my sex life "may" change. However, because I was so desperate to be free from pain, I didn't ask questions about this. I wish I had. I feel like men get more help with their sex lives after this operation. For us women it's very hard to get any information about what happens afterwards. Some women will also undergo a hysterectomy (partial or full). You may lose some of your vaginal wall. And it does feel rather different 'down there'.
The NHS will soon be introducing a new advice pamphlet for woman and their sexual health after a radical cystectomy, it's about time!
Urostomy pouches and more…
You may find that you have to try different makes of urostomy bags and accessories. This is the norm. It's like trying to find that perfect dress or suit for a special occasion. It has to feel right and do the job.
After three years I still feel anxious about stoma pouch leaks whenever we go out or I sleep away from home. I find myself constantly running my had down my stomach, feeling the bag, checking for fullness and wee patches. Does anyone else feel like this? Sometimes it is such a pain, the constant changing of bags, protecting your skin, waiting for sprays and wipes to dry…
Things that helped me through:
PAINKILLERS: ....Self-explanatory.
A V-shaped pillow: Helps to support you when sleeping on your back. Took me three to four months to be able to sleep on my side… carefully!
Peppermint: Tea, mints, sweets, capsules - anything to help with trapped, painful wind.
Easy-eats: Pre-made jellies, angel delight and rice puddings. You won't be feeling up to eating much for the first few weeks, (at week two I thought I had made the worst decision in my life) so small, pre-made desserts were a good option for getting some food in my system.
A water bottle: To encourage myself to drink more water.
If you are considering this surgery, I wish you well. There are days I hate having a stoma pouch, but there are also many more days where I am so happy that I am pain free and alive.
I hung onto the phrase, 'This too shall pass'. It became my mantra!
Love and hugs,
Anita.
"I had no idea what to ask at the time and wish I had done a bit of research, if only to be prepared for my recovery and healing." - @big_british
Ready to join SecuriCare?
For ongoing support, product advice & home delivery.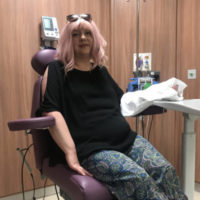 About the author
Hi I'm Anita Brown. Diagnosed with terminal small cell bladder cancer in April 2016. I've had palliative chemo and radiotherapy, and a radical cystectomy and urostomy in August 2017.
I've had problems with my bladder all my life, from incontinence, to kidney and bladder stones, and now cancer. I would like to share some of my experiences - follow me on Twitter.


Enter your email address to join our email list
By submitting, you agree to receiving product and service emails from SecuriCare. You can unsubscribe at any time by clicking the link in any of our emails, calling Freephone 0800 585 125 or emailing orders@securicaremedical.co.uk, and you can view our full privacy policy.