There have been major studies in how our pets can help to lower our blood pressure and leave us with a feeling of calm and peace due to the endorphins that are released as we pet the animals.
'Pets as therapy' is also known as 'animal assisted therapy' which is an interaction between an animal, animal handler and a person. Dogs and cats are commonly used for this type of therapy although rabbits, guinea pigs and chickens can be helpful too! Basically, most domestic and farmyard animals.
If you have pets you know what I'm talking about.
You have had a hard day at work, you're a little bit stressed and you walk through your door to be greeted by your faithful dog. In our case this is Sherlock the chocolate Labrador. In a matter of seconds, you forget about the rubbish day and just revel in the love that your pet gives you!
Using pets as a type of therapy has been proven to lower your blood pressure, aid cardiovascular health, ease anxiety and release endorphins which make us feel happy, what's not to love?
I first came across pets as therapy when I worked in a residential home as an activities coordinator. As you can imagine most of the residents were people who couldn't live in their own homes anymore and many had come straight from hospital. There was a range of illnesses, along with dementia and mobility issues. It was my job to organize activities for them. We had bingo, sing-alongs, painting, cooking etc. and although they loved the activities it was a long way from the lives that they had led before becoming ill.
We came across a mobile farm that not only visited schools, but care homes too. This was so exciting and it was my job to ensure that the wellbeing of our residents was taken care of, I loved my job!
The day came and the farm arrived. The hustle and bustle got the residents excited and many who normally would stay in their rooms, came out to see what the fuss was about.
There were rabbits, guinea pigs, chickens, potbellied pigs (who I fell in love with) and miniature ponies and donkeys. Instinctively, the animals knew they had a job to do and the handlers were fabulous. The ponies and donkeys were the BEST! They would roam the hall stopping to be petted and loved.
The residents helped to groom and feed them with carrots and apples. Many of them hadn't seen an animal since moving into care. The hall was filled with laughter and smiles. What the residents didn't realise is that by petting and cuddling all the animals, they were working on their motor and communication skills too! It also helped to ease some anxiety for them. This feeling of happiness and calm swept through the care home and was the talk of the lounge for weeks to come - especially the part about the ponies who pooped in the lounge! Our residents were helped to feel less lonely as they had something new to talk about with each other. It brought them together.
I know myself just how much animals bring happiness into our lives.
We got Sherlock, my chocolate lab, halfway through the chemotherapy treatment for my bladder cancer. He became my sidekick and was always there when I felt rough. He would sense when I needed a giggle as he would have this mischievous look on his face and steal anything he could, encouraging you to chase him - he still does this, usually with my pillows or wool! On the days that were so bad I had to stay in bed, he would lie next to me, occasionally giving me a lick but always snuggling, making me feel safe and loved.
Do you have pets who've helped you? We'd love to hear your experiences, share them in the comments below.
"Sherlock joined us part-way through my chemotherapy, he became my sidekick." - @big_british
Ready to join SecuriCare?
For ongoing support, product advice & home delivery.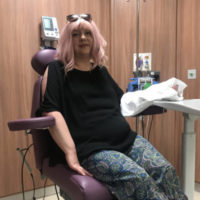 About the author
Hi I'm Anita Brown. Diagnosed with terminal small cell bladder cancer in April 2016. I've had palliative chemo and radiotherapy, and a radical cystectomy and urostomy in August 2017.
I've had problems with my bladder all my life, from incontinence, to kidney and bladder stones, and now cancer. I would like to share some of my experiences - follow me on Twitter.


Enter your email address to join our email list
By submitting, you agree to receiving product and service emails from SecuriCare. You can unsubscribe at any time by clicking the link in any of our emails, calling Freephone 0800 585 125 or emailing orders@securicaremedical.co.uk, and you can view our full privacy policy.