My Top Tips For Enjoying Christmas With A Stoma
Christmas is the pinnacle of the year for me. I love everything about it: the smell in the air (totally a thing), the buzz in the street, the darker evenings, and the type of cold we haven't felt since the year before. It's the time of year when we find ourselves becoming our very own Sherlock Holmes (or maybe an Enola – see Netflix!) in the hope we might discover the best gifts for our loved ones!
There's an unnecessary (read: completely necessary) amount of food to fuel endless nights of nibbles and buffets all featuring various family traditions and creative leftovers. Christmas trivia, digging out old board games in the hope we might win this year… time off work filled with family visits and outings and other festive based activities – did I mention buying the tree? That's okay in early November, right?!
At the same time as all this is going on, we try to manage our hospital check-ups and blood tests, prescription deliveries, bag changes, food and drink fears, our anxiety about trips out and trying to ensure we notice when our bodies tell us to slow down. So, I've come up with a short list of basics that help me get through, kicking off with the obvious….
Lists, lists, lists – just like SANTA! Whether it's a list of things to do, jobs to complete, presents to buy, or even 'you time' to fit into your daily routine, write it all down and refer to it as a reminder. Ticking things off a to-do list can help you keep track of what you're doing/when and how productive you're being. It's also handy to help with pacing and to help ensure you don't burn out.
Keep a food diary – I find I experiment a lot more over the festive period and us ostomates all know that with experimentation comes new and varied findings. Remember: if you're not sure on something try a smaller portion and take your time chewing, so you can be prepared for next time!
Warm winter baths and hot water bottles – If I even slightly suspect a stoma blockage or am worried about something I've eaten; I have a nice warm bath. A hot water bottle placed onto your belly is another option and I find this really helps me. To be honest, I don't sleep without one! I find it really helps at night easing the nighttime stoma grumbles that can occur.
Other things I find handy:
Marshmallows help thicken my output, so I always have some in the house (any excuse)!
Stay hydrated – get one of those bottles with lines on if you must, but keep your fluid intake up, especially if wine and bubbles are on the cards.
Ensure you are fully stocked up with stoma supplies ahead of the festive period – it will give you one less thing to worry about! SecuriCare are my home delivery service and they offer a one-hour delivery window which is super handy around the busy festive period – no waiting around!
Have the number of your Stoma Care Nurse or team handy – if you don't have one or can't get in touch with them, try calling S.T.A.R.S. which is SecuriCare's Telephone Advice and Response Service on 0808 301 2414.
Sign-up for electronic prescriptions – I've found this super handy ever since I enrolled and it just takes out the pain of organising your prescription when there is a service that will do it all for you.
Lastly, ENJOY yourself. Just make sure you listen to your body as much as you can!
"Read my tips for managing stoma life over the festive period!" – Sam Melling
Ready to join SecuriCare?
For ongoing support, product advice & home delivery.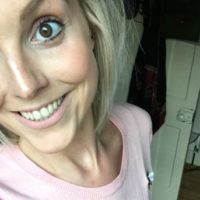 About the author
AKA TheModernBagLady, I enjoy Tapas Tuesdays, Fizz Thursdays and Fun time Fridays. When I'm not my sensible (using the term very loosely) office alter ego, I can be found seeking new adventures, wondering in woodlands, flirting with festivals and lightly laughing my way through the trials and tribulations that any "bag lady" faces.


Enter your email address to join our email list
By submitting, you agree to receiving product and service emails from SecuriCare. You can unsubscribe at any time by clicking the link in any of our emails, calling Freephone 0800 585 125 or emailing orders@securicaremedical.co.uk, and you can view our full privacy policy.