Despite the fact that we have had a year of such unpredictability and negativity, I have managed to stay sane and actually enjoyed the majority of my time during lockdown!
The main things that I focused on were the things I could do, rather than the things I couldn't. I also found that 'time' is a big thing, how many times do we normally say, "oh I haven't got time", but during lockdown that was never an issue! I was able to focus on me, to enjoy time with my wife, to focus on our home and overall, was able to rebalance my life and the things that are important to me.
Below are the things I did to make the most out of lockdown life.
Take time to focus on you
I was able to take time out for me during lockdown – not something I would usually have the opportunity to do as I work 30 hours a week for the NHS at a GP practice as a clinical administration officer, coach ten hours of cheerleading and usually have three to four hours of personal training work each week. My life is usually quite hectic! Going from all of that to just the 30 hours for the NHS, at home so without travel time, gave me so much time for me. This is one thing I have really enjoyed and will hope to keep up with once we start returning to normality.
Every week I will do some form of self-care: a face mask, a hair mask, relaxing with a film, spending a little longer on myself during usual facial routines, I have found this 'me time' so important.
Take time to do things you enjoy that you wouldn't normally have time for
I enjoy baking, and again I usually have no time for this. But during lockdown, I have rekindled my love for baking and have made many cakes, experimented on new recipes and just enjoyed being creative!
At home workouts
I really focused on my physical health. I wanted to use the time to become fitter and I began to enjoy working out. I worked out at home and it was fun to find new exercises I liked, fitness classes on YouTube and to push myself in areas I hadn't tried before. Me and my sisters even did a virtual class together every Saturday morning via Skype, to keep each other motivated and connected.
Staycations and reading
During the spring and summer last year, we had some lovely weather. We obviously couldn't go abroad, so we had some staycations in the garden instead! We treated ourselves to some sun loungers and really enjoyed our space. I read so much, and this is something I would never do at home, I thoroughly enjoyed losing myself in a good book and it's something I will continue to do.
Virtual quizzes
As we couldn't see our families, we had a Skype catch-up every Sunday, where we caught up on our weeks and had virtual quizzes. We took turns to host a quiz which was really fun and the highlight of our week. We celebrated my dad's birthday via skype and organised a sports quiz where we all had to dress up in sportswear.
Home improvement
We enjoyed doing home improvements that would usually be overlooked, we had our garden re-done and we decorated our second bedroom, something I really enjoyed doing.
Raising awareness and education around stomas
One of the biggest things that I have enjoyed during lockdown is raising awareness for invisible disabilities like ulcerative colitis and stomas. I created my Instagram page @positively_stella and my tiktok account @sarahcheer1989 to promote awareness and education around living life with an ileostomy. I created the page in July to offer more raw and real education for people out there who may have just had surgery, had surgery years ago or have surgery as a future option.
I felt that I wasn't educated well enough to be able to make a good decision before I ended up having emergency stoma surgery, so I wanted to change this for people going forward.
I have thoroughly enjoyed sharing my top tips with people and I have also made lots of new friends who have stomas too. This has been life changing for me, it is so nice having people who understand what I mean when I speak about my stoma. One of my main aims is to now change the way people think about stomas, not just for myself but for our future generations.
"My lockdown has included me-time, baking, decorating, and raising lots of stoma awareness!" – Sarah Smith
Ready to join SecuriCare?
For ongoing support, product advice & home delivery.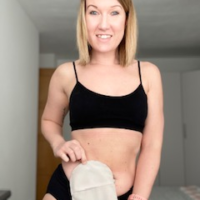 About the author
I was diagnosed with ulcerative colitis at the age of 16 and underwent emergency surgery in April 2019 which left me with an ileostomy. I love my life with a stoma and my aim is to spread positivity and awareness about IBD/stomas by giving realistic points of view from my journey so far. You can follow me on Instagram.


Enter your email address to join our email list
By submitting, you agree to receiving product and service emails from SecuriCare. You can unsubscribe at any time by clicking the link in any of our emails, calling Freephone 0800 585 125 or emailing orders@securicaremedical.co.uk, and you can view our full privacy policy.