My Bag And I: The Ostomate Documentary
Hi, my name is James Rush and I'm currently producing a documentary entitled: My Bag and I. It's a short film about young and social ostomates that hopes to normalize stomas within society.
The aim of the documentary is to raise awareness…
We're hoping to raise awareness for individuals with stomas and give advice and reassurance to the thousands of young people across the UK who have common concerns or misconceptions about living with a stoma and life as an ostomate.
We've been speaking to people at different stages of their stoma journeys.
Our fantastic contributors have been open and honest about their experiences and we hope that it gives reassurance to the many thousands of people going through similar situations.
We want this documentary to not only spread awareness and de-stigmatise stomas in day to day life, but to also reassure people that you are not defined by your illness and that although there are a lot of misconceptions out there, your stoma does not limit your ability to live life to the fullest.
The feedback so far has been overwhelmingly positive!
Although we're still in the production phase and are continuing to film in early 2019, the project has already gained a lot of traction, with an overwhelmingly positive response from the stoma community on Instagram, Facebook and media outlets across the UK including a featured spot on BBC Radio Cornwall.
Thanks to this we have successfully managed to fundraise £1200 to help cover the costs of the film and have been getting fantastic support not only from individuals but from companies and press outlets such as SecuriCare who were kind enough to offer us a spot on this fantastic blog!
Keep an eye out for our upcoming Etsy shop…
We will also soon be opening an Etsy shop where you'll be able to buy some fantastic stoma themed artwork including handmade prints (like the one below) and all proceeds will go straight back into the production of this film.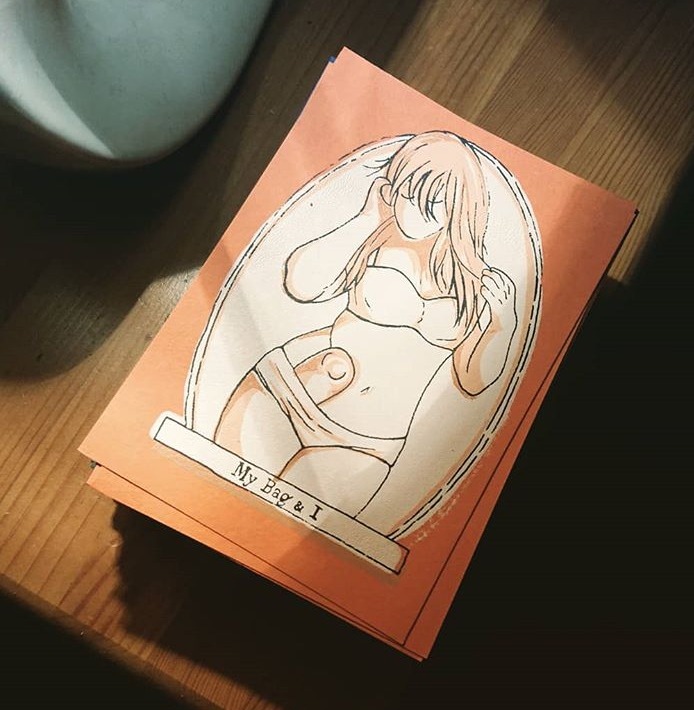 You can keep updated about when these will become available on our social media pages.
The support we've received is so important to us and allows us to make sure this film is as good it can possibly be.
This is a highly important subject that is rarely talked about in the media, so we feel it is our duty to do it justice and your support goes a long way in making sure that happens.
If you would like to support the project, please follow us on Instagram @mybagandI2019 or under the hashtag #mybagandI or you can find us on Facebook by also searching for 'My Bag and I'.
We are always looking for more ways to get the word out there so if you would like to help or share your story with us please send us a message on one of those platforms or leave us a comment as we would love to hear from you.
Thank you for reading and let 2019 be the year of stoma awareness!
James Rush,
Producer of My Bag and I.
"We want this documentary to spread awareness and de-stigmatise stomas in day to day life…" – James Rush
Ready to join SecuriCare?
For ongoing support, product advice & home delivery.


Enter your email address to join our email list
Message Sent
Thank you for submitting your enquiry. We will be in contact with you shortly
By submitting, you agree to receiving product and service emails from SecuriCare. You can unsubscribe at any time by clicking the link in any of our emails, calling Freephone 0800 585 125 or emailing orders@securicaremedical.co.uk, and you can view our full privacy policy.