Meet A SecuriCare Stoma Care Nurse: Jo Jackson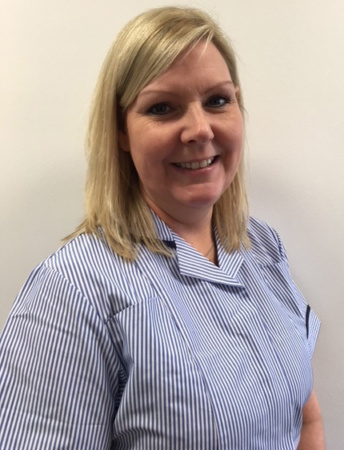 Name: Jo Jackson
Job Title: Community Stoma Care Nurse
Location: Midlands Team
Tell us about your background
I joined SecuriCare as a Community Stoma Care Nurse in January 2018. Before now, I worked as a Nurse Manager for a Complex care company which mainly involved training carers to look after patients in their own homes, on occasion this also included stoma care. Prior to this, after I had qualified as a nurse in 2002, I looked after post-surgery patients on a general surgical ward and then over the next 10 years, patients in intensive care and high dependency units.
What led to your interest in stoma care?
I always had an interest in stoma care and would like to spend time with the Stoma Care Nurses when they visited my patients. More recently I have a friend who had a colostomy formed for bowel cancer and has adjusted very well, now leading a full and busy life with family and friends. I'm very interested in how different people adjust to their stoma and I felt I wanted to help them where possible, with something that can often be seen as negative.
What do you enjoy most about being a Stoma Care Nurse?
The part I enjoy most is being able to spend the time with the patients, listening to their experiences and trying to put right any issues that they may have with their stoma. It may be the simplest thing eg. trying a different type of pouch to stop leaks, but when this works I get a huge feeling of reward as it has the potential to immensely improve their quality of life.
What's a typical working day like for you?
My days are usually spent in clinics reviewing patients and assisting them with any problems or offering support as needed. Some patients may not have seen a Stoma Care Nurse for many years so knowing they have access to one gives them reassurance. If for any reason a patient cannot attend a clinic appointment I will see them at home. No 2 days are ever the same and I also enjoy the training element of my role, educating other health professionals.
What do you like to do outside of work?
I have an 11 year old daughter who keeps me busy away from work. I also love live music and I go to concerts whenever possible – I've travelled all over the country to see different bands! I also enjoy walking and keeping fit and will go to the gym if time allows.
"I'm very interested in how different people adjust to their stoma and I felt I wanted to help them where possible…" – Jo Jackson
Share this article:
by SecuriCare Team
Ready to join SecuriCare?
For ongoing support, product advice & home delivery.