Father's Day is a chance for us kids to thank our dads for what they do for us! Whether that's making a macaroni pen holder or buying him beer, there are all sorts of ways we can show them we love them.
My dad and I have had an interesting relationship. I was 13 when my parents got divorced, so I haven't lived with my dad in a long time.
A lot of people think divorce is a bad word, but the separation has done us the world of good. We are (as my mum keeps telling me) very similar and know how to wind each other up. When I was little he was great at playing games in the garden or making something out of nothing to entertain me. Then I became a moody teen and we drifted a little. He was always pestering me to do things and just to annoy him, I wouldn't do them.
When I moved to university we drifted even more. I felt like I was finding my feet as an adult, but he was still treating me as the kid who liked to build a fort out of sofa cushions. Then I got sick.
For all his quirks and weird ideas, my dad has always been amazing in a crisis. I started to feel unwell a few months into the second year of my degree but was too stubborn to tell him I wasn't well. After a month of hiding just how sick I was, my dad knew there was more to the story. He drove an hour and a half to university to find out what was really going on. He took one look at me and dragged me to A&E. We sat there for five hours, only to be told I, "Probably had an iron deficiency. But it would be good to see a specialist gastro doctor just in case." Two weeks later he carried me into my first GI appointment. From day one of my treatment he was there. He would offer to take me to every hospital appointment and would do a three-hour round trip just to take me for a blood test.
Throughout eleven months of treatment, my dad tried his best to support me.
Sometimes he would send me a link to "The top 10 ways turmeric can 'cure' IBD" or something titled "illness is all in your head. Try mindfulness to solve it". At the time, these things would make me angry and upset but I understand he was just trying to help in his own strange way. I saw how much it destroyed him to watch me go to hospital three days a week, taking a cocktail of medication that only seemed to make things worse and losing weight by the second.
Despite our best efforts, my condition worsened, and I was told I needed stoma surgery. My dad and I sat in the car for 20 minutes digesting the information and what would happen next. We cried and he hugged me. I give him a hard time and we battle against each other every now and then, but he sacrificed a lot for me.
When I was admitted for surgery, he would sit with me all afternoon trying to distract me from my IV drip and the impending surgery.
On New Year's Eve 2017 he brought fairy lights for my hospital room. As he was putting them up, I snapped at him and told him to stop. I was angry, in pain and didn't want to make a scene - so I told him to stop making a fuss. I know he was only trying to cheer me up and looking back I shouldn't have snapped. Our relationship changes daily. Some days we get on well and have a real laugh. Other times he will say something annoying and we won't speak for a week!
Ultimately, he's my dad and he's been there for me through tough times. I can't thank him enough for that.
"My dad would offer to take me to every hospital appointment and would do a three-hour round trip just to take me for a blood test." – Billie Anderson
Ready to join SecuriCare?
For ongoing support, product advice & home delivery.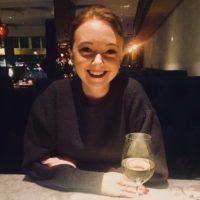 About the author
My name is Billie Anderson, I'm in my twenties and study history at Portsmouth. I was diagnosed with Ulcerative Colitis in 2017 and after a year of very aggressive drug therapy, I became an ostomate. To help raise IBD and stoma awareness I started a blog https://trustyourgut.blog and an Instagram account @billieandersonx.
This is my attempt to make my very unconventional stomach, conventional. I hope to show the world that you can love yourself - with your insides on the outside.


Enter your email address to join our email list
By submitting, you agree to receiving product and service emails from SecuriCare. You can unsubscribe at any time by clicking the link in any of our emails, calling Freephone 0800 585 125 or emailing orders@securicaremedical.co.uk, and you can view our full privacy policy.