Managing Bag Leaks In Public
The majority of the time, I'm very positive about my stoma bag. After five years, I'm comfortable with it and it makes my life a lot easier! However, one thing which never gets easier is bag leaks. Sometimes you go through phases where they just happen and finding your way around them can feel hard.
Something I used to struggle with daily was a leaking mucus fistula. My mucus fistula was on my left side, opposite my stoma, and it was always active! To the point where I had to change it daily, and usually more from unexpected bag leaks.
Whether you're dealing with leaks with your stoma bag, or your fistula, there are ways to manage it and here are my top tips…
Carry emergency stoma bags with you
I have a little bag in my handbag which has enough supplies in it to do a quick bag change if I have a leak when I'm out. Usually I have enough supplies for two bag leaks, along with extenders, just in case! It really helps put your mind at rest when you're out - if something happens, you can deal with it!
Try to stay calm
This can be easier said than done but try to stay calm and don't get too upset. Just focus on finding a toilet so you can change quick and easy. If you can't find any public toilets, you can always go into a cafe or pub and ask if you can use theirs!
It may be handy to carry a 'Can't Wait' card (available from SecuriCare) which explains why you need to use the toilet, or get yourself a radar key (also available from SecuriCare) so you can use disabled toilets.
Find a disabled toilet if you can
I prefer to use a disabled toilet for bag changes because you have more space for your supplies and there's usually a sink which makes things way easier! I always feel really awkward going into disabled toilets because I worry that someone will say something to me (because I don't look disabled) but don't be afraid! I've never actually had anyone say anything to me and you know yourself that you need to be there.
Try using flange extenders
Flange extenders are a LIFE SAVER and can give you a bit more time if you're suffering with regular bag leaks. I rely on these a lot and they've helped me avoid getting leaks on my clothes which is always a winner!
Talk to your Stoma Care Nurse if your leaks are regular
If you experience regular leaks it could mean that the bags you use just don't work for you and you may need to try a different brand or style. This was the issue with my stoma bag in the beginning and when I changed the brand of bag, I stopped having issues. It may be because your stoma goes flat to your stomach sometimes so you need a convex bag instead, or maybe you have a hernia so could benefit from a pouch designed specifically for that (SecuriCare's sister company, CliniMed, provide specialist pouches: Aura Convex and Aura Profile).
There are different accessories you can use to help keep your bag stuck to your skin, so it's worth having a chat with your stoma care team or, if you're a SecuriCare customer you could give the Careline a call for advice.
There's also S.T.A.R.S. (SecuriCare Telephone Advice and Response Service) providing phone access to stoma support for all ostomates regardless of whether you're a SecuriCare customer. Speak to one of our Stoma Care Nurses within one working day of your call Monday to Friday 9am – 6pm on 0808 301 2414.
"Regular leaks could mean that the bags you use aren't right for you… you may need to try a different brand or style." - @katieemay1
Ready to join SecuriCare?
For ongoing support, product advice & home delivery.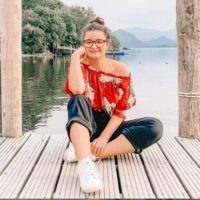 About the author
Katie May is a health and wellness advocate living with a stoma, IBD and arthritis. You can follow her on Instagram for regular updates related to both her health and travels.


Enter your email address to join our email list
By submitting, you agree to receiving product and service emails from SecuriCare. You can unsubscribe at any time by clicking the link in any of our emails, calling Freephone 0800 585 125 or emailing orders@securicaremedical.co.uk, and you can view our full privacy policy.