Interview With Alice Edwards From Baggy Apparel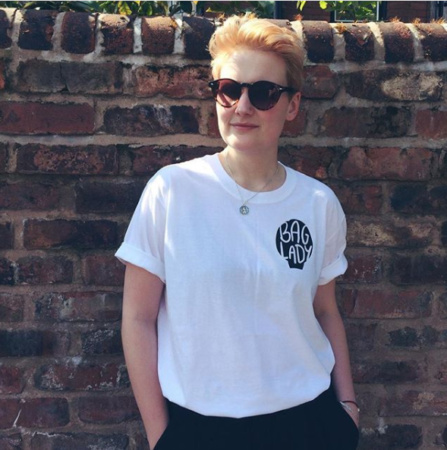 Hi Alice! Tell us a little a bit about your background and life before Baggy Apparel was born:
I was diagnosed with Crohn's disease at just 11 years old, and have suffered with symptoms and active Crohn's almost constantly since. I got through my degree studying textiles at The Arts University Bournemouth - this is where I gained my passion for fabric, and hand screen printing, something which I wanted to continue after university, but I wasn't able to until recently!
Your website says you had emergency surgery as a result of complications from Crohn's disease – had you considered the need for a stoma prior to your surgery?
I had always somehow known that surgery would one day be on the cards. However the thought of the dreaded 'bag' was the worst case scenario in my mind at the time. And when I woke up from my first surgery I was so relieved not to have had to have a stoma, which was a risk of the surgery itself. I hadn't considered a stoma to be a good thing at all. So in the beginning it was quite difficult to come to terms with, but when I look at the life it's given me, the freedom to enjoy my life pain and symptom free, and pursue my passion again, I am incredibly thankful for my little baggy!
We love that you've created something so positive out of a life-altering situation which can be quite scary for many people at first – how long was it before you got started on your designs?
At first I struggled with the shock of the situation, as the emergency nature of my surgery didn't give me any time to really prepare myself for what I'd be waking up to. And for a while I couldn't even look at my newborn stoma; I'm squeamish at the best of times! As we got to know each other, and I realised the seriousness of what could have been, I tried to look at every positive thing the stoma had given me (like eating baked beans again)!
I began to talk more openly about my 'baggy' and affectionately referred to myself as the 'bag lady'. And that was the first time I had the idea for Baggy Apparel. It made me laugh… so someone else might think the same. And I'm so glad they have!
Tell us about the inspiration behind Baggy Apparel's style and branding…
I wanted to create something simple, stylish and really wearable, while still sending that fun tongue in cheek message about aspects of the bag life and giving us pride in our little pink friends! Not to mention to raise awareness and start conversations like, "what exactly is a Barbie Butt?" (NB: this is a slang term for removal of the rectum or anus).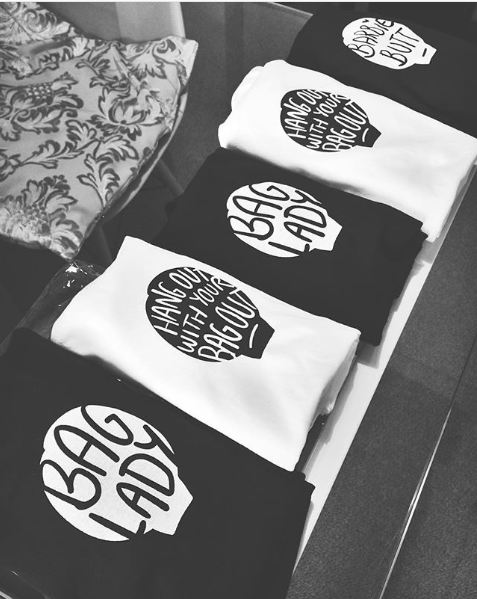 What's the initial feedback been like from the ostomy community so far?
The ostomy community is an amazing thing to be part of. Everyone seems to support each other, share advice and experiences, and it's truly great to see. Not to mention the likes of Hannah Witton doing incredible things to raise awareness for our ostomy family.
I also have to give a huge shout out to the charity Purple Wings who actually funded membership to a print studio for me to start the project. The love and support I felt from them was overwhelming. And the messages I've received so far have been so heart-warming and have really made all the hard work worthwhile. From people saying they just love the brand, and how cheeky it is, to a mother of a young teenager who has just had surgery and wants to show them that humour can be found in many places!
Are there any plans for expanding the line in the near future?
Yes there are definitely plans for more products down the line. I often think of something that makes me chuckle as a new tee and have to jot it down before I forget! I want to create something for all of our double baggers out there! And we have some super (and I mean super) soft hoodies waiting in the wings for autumn, so just watch this space.
We also spied that you have a full-time day job! You must be a seriously busy lady – what keeps you motivated? Any tips for aspiring entrepreneurs or advocates?
I certainly do! Motivation can be hard to draw on sometimes but luckily when you're passionate about something it goes a long way to helping you achieve your goals. And for me, it's getting a photo of someone wearing their tee and a message about how happy they are with it and how proud it makes them feel - that's what keeps me motivated! My advice would be to find something you really love, and know that there is always a way to make it happen.
"I wanted to create something simple, stylish and really wearable, while still sending that fun tongue in cheek message about aspects of the bag life and giving
Alice hand prints the Baggy Apparel line from a printing studio in Manchester. You can visit her store online at baggyapparel.co.uk and follow her on both Facebook and Instagram.
Share this article:
by SecuriCare Team
Ready to join SecuriCare?
For ongoing support, product advice & home delivery.