How My Bucket List Landed Me In A&E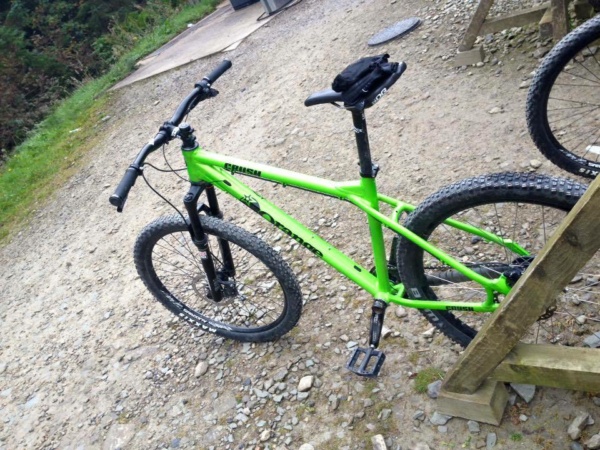 Back in 2015, I was facing my completion proctocolectomy and I wanted to take my mind off it.
I wanted to do something I hadn't done before, and maybe something I might not be able to do ever again.... ride a bike. Therefore, downhill mountain biking was up next on my bucket list.
Downhill mountain biking was a tougher challenge than I'd anticipated
Most of my bike riding was on level ground, and on a terrain that gave me no cause for concern. Llandegla in North Wales was the track of choice, very popular in the North West area. I was accompanied by a friend, Gary, who had been a few times before and told me what to expect.
What I did not expect however, was just how long the climb to the top would be. The early part seemed fairly flat, a few bumps and little jumps. I got over excited and used all my energy before I had even begun what turned out to be the real assent.
I stopped before the next stage of the climb. When Gary pulled up next to me I asked in a slightly out of breath voice, "Nearly there, right?"
Gary let out a slight laugh, "Not even close!" he said. We were then faced with a lung burning, lactic acid inducing, muscle deteriorating climb to the summit.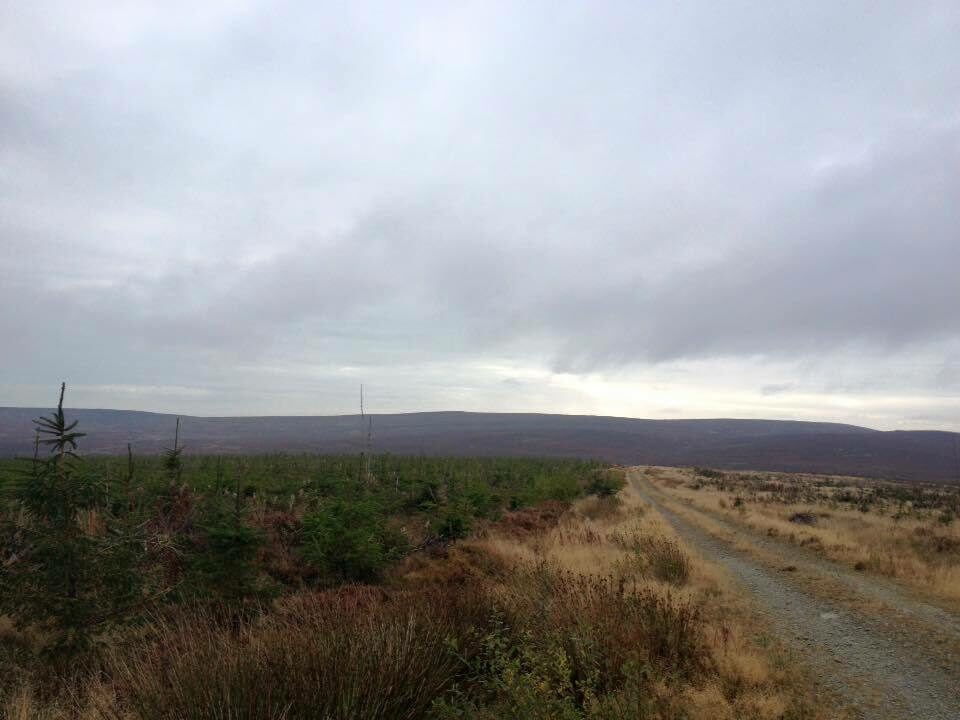 I stopped regularly to check on my stoma bag and fistula
Bountiful rest breaks provided excellent chances to check if my stoma bag and mucus fistula patch were still attached. I kept checking because I was wearing a backpack and part of the bag's harness was rubbing over the fistula, and the cap had a habit of popping off with little warning.
No fear, and no thoughts of surgery
When we eventually reached the top, I was out of breath but I felt relieved because I knew it was all downhill from there. I attached cameras to myself and the bike, and we were off!
It was so much better than I'd expected. It was just me, the bike, the elements, wind whistling in my ears, trees rushing by, no fear and no thoughts of surgery.
I still to this day don't know what went wrong
There were 3-4 different routes down the hill, each one a different level of skill and ability. You could either travel down a fairly smooth route, or go to the extremes of ramps and jumps.
The plan was to not go mad, but to still have a challenge. We had planned to do the middle route. However, I was going too fast to notice and sped past the checkpoint and put us on the second hardest route. What followed was a series of mini jumps, wooden runways, switchbacks, and tracks with rocks that could cut you to shreds - there were a few 'holy 5#!7 that was close!' moments.
For the next couple of hours there were fast downhill stretches, I was zipping through trees, experiencing near misses mixed with energy zapping moments of pushing my bike up the rock face.
As we approached the base of the mountain, I felt happy with the buzz of adrenaline in my veins. On a relatively flat and unchallenging stretch of track the front wheel suddenly swept out from under me, I still to this day don't know what happened. My face slammed into the verge on my right, and I proceeded to bounce along a few more times.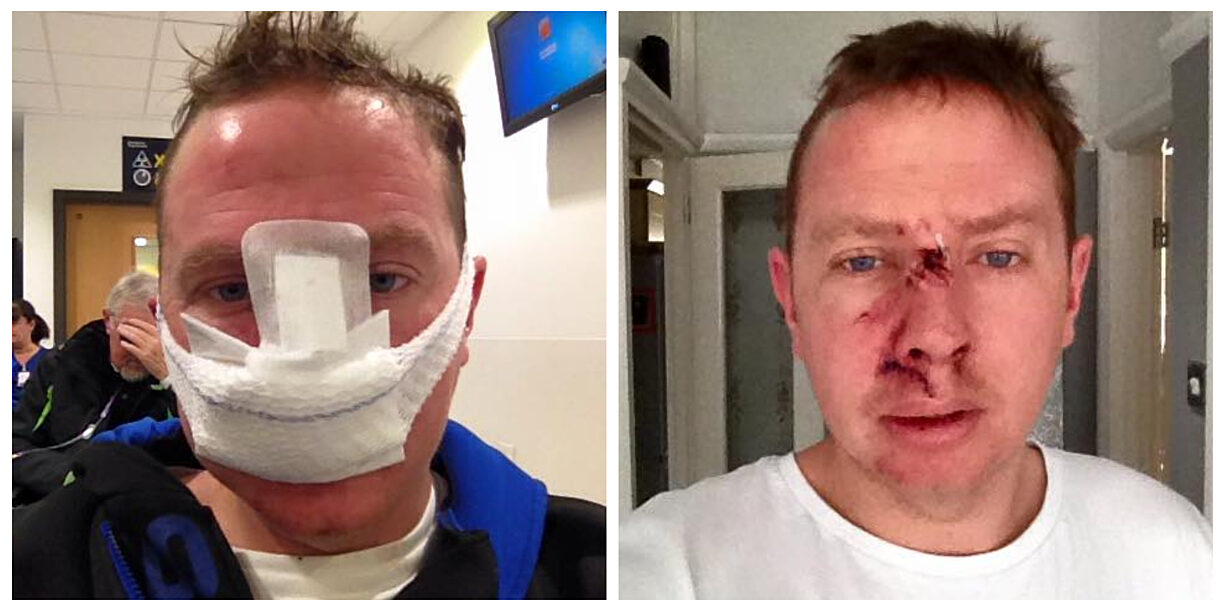 Pain turned to panic, which turned to numbness
Slightly disoriented by what happened, and thankful I had a helmet on, I sat up thinking about what had just occurred. I touched my face yet couldn't feel it. Have I lost my nose? Blood streamed down my hand. Feeling faint, I panicked thinking I had lost my face and was going to bleed out. I blame Call of Duty for that!
Assisted by Gary, a passing medic, and tissues, I walked back to the clubhouse for some First Aid. Once bleeding was under control, we headed to A & E. Once there I had a tubigrip wrapped around my face and waited to be seen by a plastic surgeon.
In the waiting room, I felt wetness around my midsection. During the accident my bag strap had pulled of my mucus fistula patch causing bleeding, which explained the wetness. The top I was wearing acted as a dressing. I had no supplies on me but the bleeding was minor. I was too embarrassed to mention it at the hospital and I knew I could deal with it once home.
Having to manage those wounds completely took my mind off my upcoming surgery
I went on that bike ride to help take my mind off the upcoming operation. I certainly didn't expect 2 facial wounds, and a dressing that made me look like a budget Bane from Batman. This ended up being a blessing in disguise, because in having to manage those wounds over those few weeks I hardly thought of my impending operation at all. I wouldn't recommend this approach, though!
"Your life is controlled by what you focus on" - Tony Robbins
There is a video, by the way….but if you suffer from motion sickness, I would avoid it!
Share this article:
by Nick Axtell
Ready to join SecuriCare?
For ongoing support, product advice & home delivery.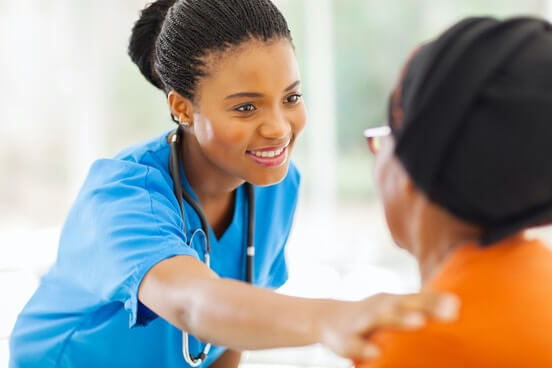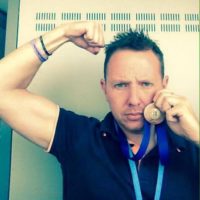 About the author
Hi I'm Nick. Diagnosed with Crohn's in 2006, gained a Stoma in 2010 and Completion Proctectomy November 2015. I have a family with 2 girls and a somewhat unusual sense of humour, which I hope will come across in my blogs. I am trying to live my life to the fullest and not let my stoma get in the way.