I recently went on my first resort holiday in a long, looong time
As my health has begun to improve, I've started to get more adventurous with my travels. Since becoming an ostomate I have intentionally avoided beach holidays, but this year we booked to visit Croatia. I'll be honest, the thought of going into the water or even wearing a swimming costume with my stoma was quite scary.
Despite being a fairly strong swimmer, I hadn't owned a swimming costume for about 10 years…
That's not an exaggeration! So my first task was to find something suitable for me. Off I went on a determined shopping trip, but much to my dismay most of the high street stores had stopped stocking swimwear because summer was over. Online shopping was my only choice; not really something I wanted to do. How would I know if what I was looking at would cover my pouch? How would I know if my stoma would be restricted? What if I looked like a granny?
With these anxieties in tow, I took to my laptop and after spending much longer than I wanted to, I found this Elle Sport tankini. It's perfect because it has mesh inside which made my pouch feel nice and secure, the outer layer has a series of gatherings which conceal my pouch nicely and the top doesn't ride up. The bikini bottoms are not so low that I can't tuck my pouch in and not too high that it puts pressure on my stoma. Perfect.
Isn't it interesting how all the worries in the world can become redundant in a few short moments?
I also bought myself a pair of board shorts to wear with the tankini. This was simply because I wanted them but if my mum asks - I need them for a fully justified, ostomy-related reason!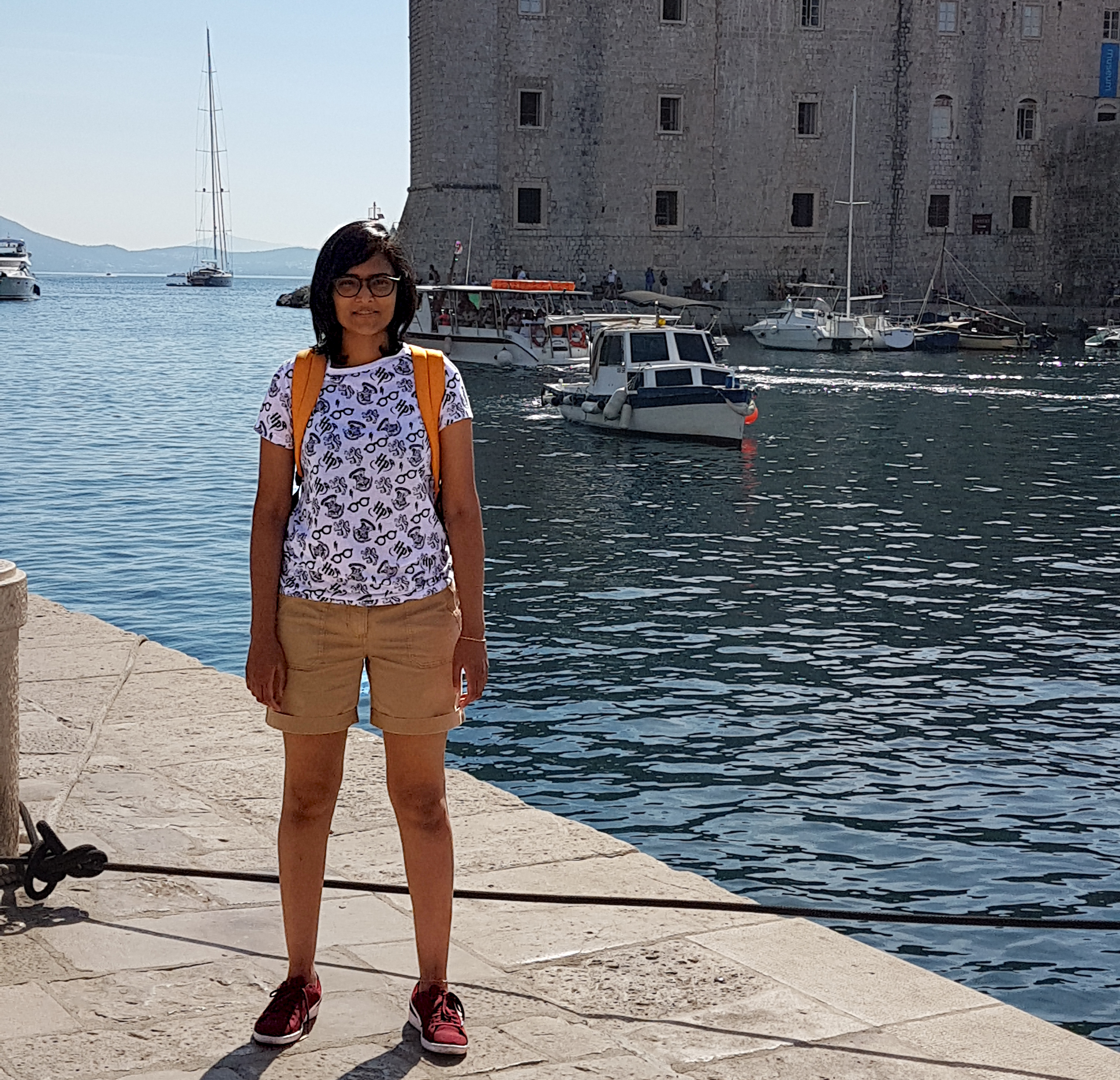 Unnecessary swimming costume stress aside, this holiday also gave me my first encounter of being stopped by airport security because of my ostomy.
At the airport, I went into one of those body scanners and the security staff spotted my stoma
As a result, I was pulled aside, patted down and, because the woman could feel my pouch, I was taken aside (behind a curtain) for a further check. I won't lie, at that point I was properly scared. I offered to provide documentation to explain my stoma but she wasn't interested and said that she'd simply need to have a look and take a swab.
This was very non-intrusive – all she did was wave what looked like a duster over the outside of my pouch, go off for a couple of minutes, come back and told me I could go.
There were 2 female staff present who both acknowledged that I was nervous and were super friendly and respectful
Again, just a case of unnecessary worry on my behalf. I thought I'd share this experience in case any fellow ostomates face a similar situation; the government's 'your rights at the airport' pages are helpful too.
Hopefully these new and unfamiliar situations will continue to help me grow in confidence and teach me not to be afraid of stepping beyond my comfort zone. I'd love to hear about your experiences of travelling abroad with a stoma – please do share!
Top tips for travelling with a stoma, from SecuriCare:
Your travel bag should include enough stoma pouches to last your whole trip, with a few extras just in case. It's a good idea to also pack dry wipes or swabs, cleansing wipes for your hands, anti-diarrhoea and re-hydration tablets. We also advise on taking disposal bags, drainable pouches for ease of emptying while travelling or in case you have an upset tummy, and any accessories you use such as ostomy deodorant or motion management sachets. If you use the SecuriCare home delivery service, you could receive a complimentary travel pack.
Michelle has more tips for travelling with a Stoma here