Confidence On The Basketball Court
It's important that, when an individual's circumstances change, they get the right support to help with the transition, and to build a team around themselves. This has recently been true - both on and off the wheelchair basketball court - for one of our teammates, David.
With three games packed in over the space of a month it was particularly necessary for the whole team to support each other.
We didn't get off to a great start against Sheffield because we were up against a full-strength squad, hell-bent on revenge. Glasgow Rocks kept it respectable at 49-44 with strong defence and had a good use of the ball on the turn over.
David appears to be growing in confidence. I feel sure a part of this is the Botox treatment he recently received, which also allows him to now use the Curan Man Advantage ISC catheter from our sponsors, CliniMed. They, along with the team at SecuriCare home delivery service, have helped David become more independent and move away from using incontinence pads, so he doesn't have to worry quite as much about accidents, and the associated embarrassment. I'm sure this has affected his confidence on the court in the past.
David has helped both our first and second teams reach victories, and could potentially represent two division playoff teams, and gain silverware for both! He was heavily involved in what we called 'The Celtic Clash of The First Division', against the NI Knights, taking some good shots and being there as an outlet to set up the offence. In the end of the two leg clash, Rocks' first team were able to put in an astonishing performance to win the home leg 61-59; the most entertaining game they'd played all season. They got the job done in Belfast, too, with a 51-46 victory, which could have been even more comfortable, had they not cruised through the third quarter letting Knights pull back from 16 behind.
Next up will be the last game of the season against the unbeaten Oldham Owls.
We'll be armed with a strong squad at home, so it promises to be an enthralling finale to a tough, but highly enjoyable and successful season. We're also in the CliniMed Sponsored SBC Scottish Cup Final against our nearest rival, Lothian Phoenix. We're favourites to win, but that doesn't mean we can afford to take it for granted; we'll be well drilled and focused. No doubt our David will emerge amongst the stars of that game.
Overall, it's been a positive month for the club, for David, and for our partnership with CliniMed. We hope we can continue to communicate well and to build on the existing teamwork.
Here's to the future…and especially to the future of the Rocks.
"It's been a positive month for the club, for David, and for our partnership with CliniMed." - @rockswheelchair
Ready to join SecuriCare?
For ongoing support, product advice & home delivery.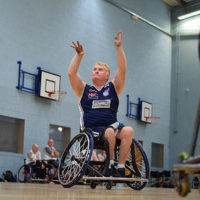 About the author
Gary Davidson is an active sportsman who has competed at the Paralympics for both Scotland and Great Britain over the years. Gary has spina bifida, and carries out self-catheterisation. You can follow him on twitter @rockswheelchair.


Enter your email address to join our email list
By submitting, you agree to receiving product and service emails from SecuriCare. You can unsubscribe at any time by clicking the link in any of our emails, calling Freephone 0800 585 125 or emailing orders@securicaremedical.co.uk, and you can view our full privacy policy.