Being Diagnosed With Bladder Cancer: Part Four
In part three of Anita's bladder cancer diagnosis story, both she and her husband had just received the news that Anita had a neuroendocrine, otherwise known as a small cell bladder tumour…
I remember crying so hard that I thought I would never stop.
My urologist and my lovely nurse were sat by my side, holding my hands... they were also in tears. We all knew that this meant it was bad. Just how bad? We didn't know.
Mr N had arranged for us to see an Oncologist, Dr S. It wasn't the best first appointment. I swear he had someone else's notes in front of him. He said he would arrange a PET scan, which stands for Positron Emission Tomography. We agreed but I had no idea what was going to happen. We were still in shock, disbelief and completely overwhelmed by everything that was happening.
A PET scan is where they inject you with a radioactive dye.
This turns into sugar and the cancer cells eat it, showing up as light on the scan so you can see an accurate image of where the cancer is within the body. You are then told to sit still for an hour, in a special lead lined room. Even contact with the radiographers is limited.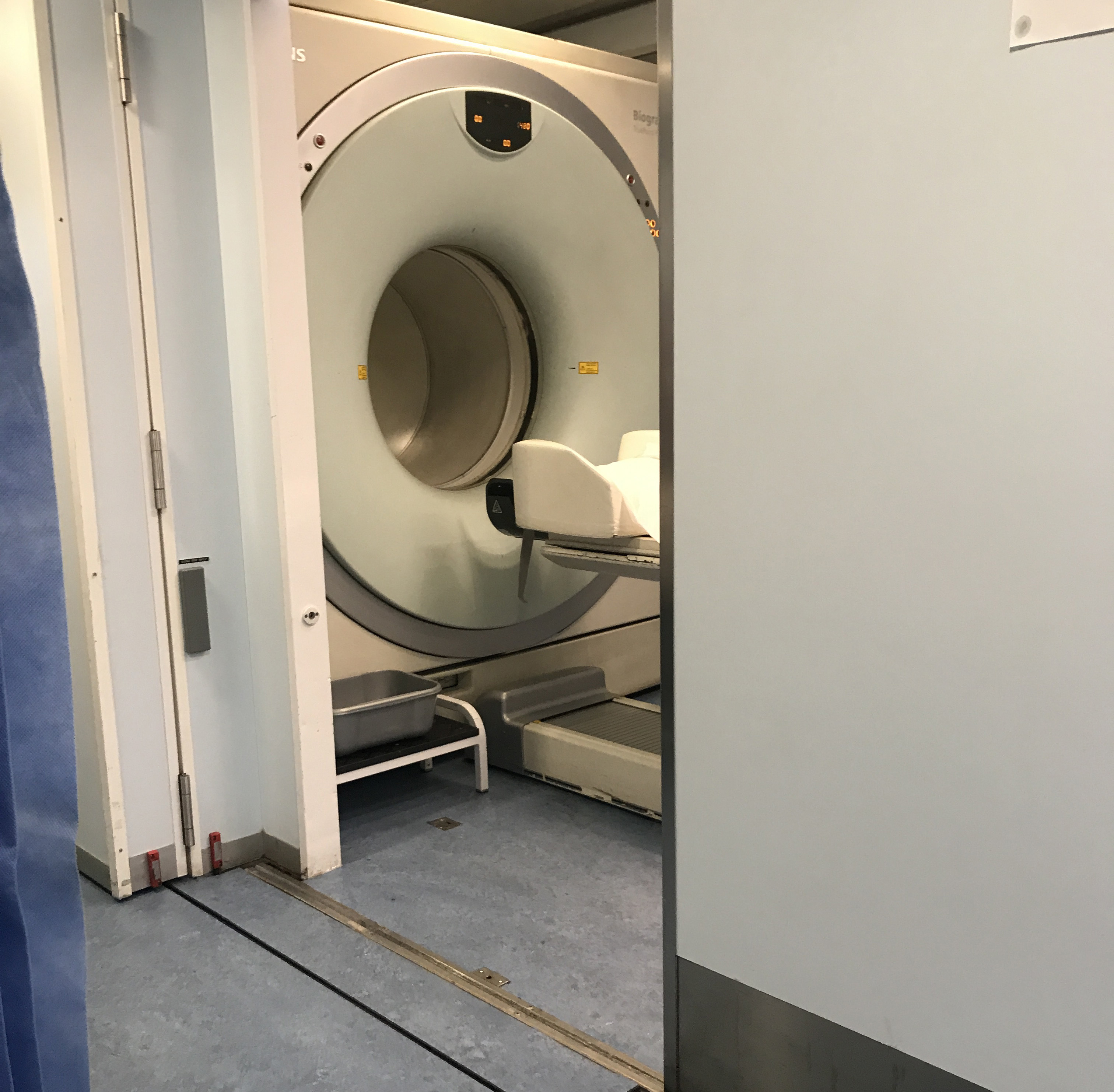 The scan takes around half an hour and you need to stay still throughout. It is a little claustrophobic, but over the years I've developed coping mechanisms like wearing an eye mask and pretending I'm on a nice beach somewhere. After the scan you must go straight home and stay away from pregnant women and small children.
We returned for the scan results a few days later.
Dr S certainly won't be winning any awards for his bedside manner. He said, "You lit up like a Christmas tree." It shocked the living daylights out of me. The cancer was in my lymph nodes, my liver, my right hip and both arm bones.
The minute he said the word "bones" I knew my death warrant had been signed.
I remember the tears falling from my face and being unable to stop them. My husband, Tim, had started to ask questions, THOSE questions… like how long I had left. I remember pulling his arm and saying I wanted to leave. I didn't want to cry my eyes out in front of someone I'd only met twice.
We sat in the van, shocked to our core. Not believing what we'd just heard. I knew it was going to be bad, but not that bad. The realisation was beginning to hit me. I was going to DIE! I wasn't going to be an old lady, I wasn't going to meet my grandchildren. I was going to die!
We called my son and told him. There was no point in holding off, he knew it was bad.
I remember the phone going quiet. He just said, "Okay, I will come and see you later." I think we called everyone on the way home. I just wanted it out of the way. My heart broke every time I had to tell someone. I felt their pain and anguish alongside my own.
That evening I think I drank until I passed out, obviously I am not suggesting this is a good idea, but it was just my way of coping.
I woke up in the night crying. I wanted to sit in the garden, in the summer. Tim held me tight and said I would be able to.
It was then that I realised I had achieved nothing in this life. There was no time for me to grow into a wise old lady. I had spent the last few years battling with illnesses, debilitating illnesses, and now this was it. My life was nearly over.
Even as I write those words now it makes my heart ache. I wished I had more time, I wished I had done more. I wished I had made a difference.
My doctor arranged for me to speak to Macmillan and we all began to have counselling. Just how do you come to terms with the fact that your life is going to be a lot shorter than you thought?
I made a promise to myself that I wasn't going to say a bad word to my son, my family or my friends. I didn't want them to see how scared and frightened I was. I didn't want them having bad memories of me. I wanted them to remember me as happy and positive. This, I soon learnt was an unachievable task.
I started my first lot of palliative chemotherapy the first week of June 2016.
There is no treatment for small cell bladder cancer per se, so I was treated for small cell lung cancer. As the poison pumped through my body we could only hope that it would have some effect on me.
"Just how do you come to terms with the fact that your life is going to be a lot shorter than you thought? " @big_british
Ready to join SecuriCare?
For ongoing support, product advice & home delivery.
About the author
Hi I'm Anita Brown. Diagnosed with terminal small cell bladder cancer in April 2016. I've had palliative chemo and radiotherapy, and a radical cystectomy and urostomy in August 2017.
I've had problems with my bladder all my life, from incontinence, to kidney and bladder stones, and now cancer. I would like to share some of my experiences - follow me on Twitter.


Enter your email address to join our email list
Message Sent
Thank you for submitting your enquiry. We will be in contact with you shortly
By submitting, you agree to receiving product and service emails from SecuriCare. You can unsubscribe at any time by clicking the link in any of our emails, calling Freephone 0800 585 125 or emailing orders@securicaremedical.co.uk, and you can view our full privacy policy here.