Anita's Urostomate-Friendly Festive Baking Recipes
Christmas is coming and the geese are getting fat! I am so, so excited! It is my absolutely favourite time of the year.
The cool crisp air, the frost on the bushes and trees, wrapping up all warm and snug in your scarves and hats... the shops playing all your favourite Christmas songs, what's not to love? It's also my birthday and my son's birthday in December (as well as some of my close friends) so it's party month! We all get together to celebrate. Everyone seems happier at Christmas time, don't you think?
One of the things I love about Christmas is baking!
I enjoy baking little festive treats of joy (and sugar). My absolute favourite recipe is gingerbread, in any shape or form - usually gingerbread men and Rudolphs. The good thing about this recipe is that you can use gluten free flour, but make sure you have xanthan gum as this is what holds it together and keeps it formed. You can also buy dairy free butter, which works well too.
Easy to make gingerbread men and Rudolphs:
Ingredients
350g plain flour (if using gluten free add 1-2 tsp of xanthan gum)
1 tsp bicarbonate of soda
2-3 tsp ginger (add to your own taste, we love them really gingery)
100g butter (dairy free will work)
175g light brown sugar
3 tbsp golden syrup
1 medium egg
Decorations as you wish
Method
Line a few flat baking trays with grease proof paper and turn oven on to 180.
Sieve flour and bicarb into a bowl, add ginger then stir thoroughly
Rub butter and sugar till they look like breadcrumbs
Warm the syrup in a pan, not too hot, then add egg and whisk until they combine
Pour syrup and egg mix into the flour mixture and stir with a wooden spoon until a dough is formed
Sprinkle flour on side and roll dough out to cut shapes
Bake for 10-15 minutes or until golden brown, wait for them to cool and then decorate.
The smell is just divine... enjoy!
My Nana's special ginger cake:
Ingredients
225g self-raising flour (if using gluten free add xantham gum to avoid crumbling)
1 tsp baking powder
1 tbsp ginger
1-2 tsp mixed spice
1-2tsp cinnamon
110g butter
100g stem ginger chopped up
110g dark brown sugar
110g black treacle
110g golden syrup
250ml milk (Can use lactose free)
1 large egg
50g icing sugar for decoration
Method
Pre heat the oven to 160
Grease and line baking tin (any shape I use a large loaf tin)
In a large bowl mix together the flour, baking powder and spices
Add the butter and rub into dry breadcrumbs
Add the stem ginger and stir
Meanwhile put the sugar, treacle, syrup and milk into a pan on a low heat and melt together till sugar dissolved
Let it cool a little and then add it to the flour mix, stirring whilst pouring
Add the egg and stir gently till all combined
Pour into tin and cook for 50-60 minutes
Let the cake cool and decorate however you want to.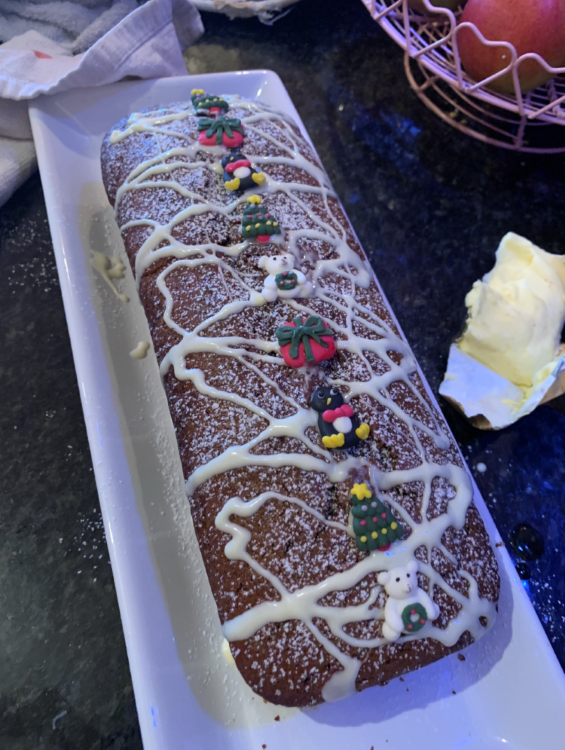 "Everyone seems happier at Christmas time, don't you think?" - @big_british
Ready to join SecuriCare?
For ongoing support, product advice & home delivery.
About the author
Hi I'm Anita Brown. Diagnosed with terminal small cell bladder cancer in April 2016. I've had palliative chemo and radiotherapy, and a radical cystectomy and urostomy in August 2017.
I've had problems with my bladder all my life, from incontinence, to kidney and bladder stones, and now cancer. I would like to share some of my experiences - follow me on Twitter.


Enter your email address to join our email list
Message Sent
Thank you for submitting your enquiry. We will be in contact with you shortly
By submitting, you agree to receiving product and service emails from SecuriCare. You can unsubscribe at any time by clicking the link in any of our emails, calling Freephone 0800 585 125 or emailing orders@securicaremedical.co.uk, and you can view our full privacy policy.